---
New York
The Empire State
---
New York is located in the Northeast of the United States. It borders the Atlantic Ocean to the southwest and two of the Great Lakes – Ontario to the north and Erie to the west. Spring months are generally cool and wet, the summer is warm, fall has moderate temperatures and winters statewide are generally cold and snowy. From Niagara Falls to New York City, New York bursts with natural and man-made attractions. The majestic Statue of Liberty in New York Harbor and the great NY State Fair in Syracuse (an annual event in the summer) are just two examples.
New York City is known for its Broadway shows, famous restaurants and 24-hour subway system. To travel around the state, you will need to rent a car, book a bus or train ticket. For more information, visit: iloveny.com.
Jump to: Historical Sites & Tourist Attractions | Arts & Culture | Sports & Recreation | Outdoor Activities | Food | Local Festivals | Housing Resources | Transportation | Health & Safety | Help Your Community
Historical Sites & Tourist Attractions
Times Square in New York City. Photo by Terabass.
Add some local history to your cultural exchange experience by visiting a nearby historical site or tourist attraction when living and working in the New York.
New York City
Historical Sites
Take a Lower East Side walking tour and learn about the vibrant history of this NYC neighborhood. The free tours are held every Sunday from April to November, starting at a New York landmark, Katz's Deli.
A Tour Grows in Brooklyn is a historical tour of Park Slope and Prospect Park, sites that were once part of the Revolutionary and Civil Wars. Visitors will also learn about cultural attractions in the neighborhood, architectural sites and the arts and culture of the area.
The Museum of the City of New York focuses on the past, present and future of NYC and its cultural diversity. Exhibitions include works of art, historical exhibits, photographs, film and more. Public programs and lectures are also held at the museum.
New York Historical Society is the oldest museum in New York City. Founded in 1804, the museum now has over 60,000 historical and cultural artifacts and regularly hosts educational programs for the public.
Tourist Attractions
The Statue of Liberty is arguably the most iconic landmark in New York and a popular tourist attraction. Visitors can take a ferry from Statue Cruises out to Liberty Island (and nearby Ellis Island) to tour the statue and the island. If tickets are sold out, consider taking a cruise of the harbor– the tour boat often go close by the statue for photo ops. Learn more about Liberty Island, Ellis Island and the Statue of Liberty at the National Park Service website.
The Empire State Building is a popular attraction in New York City, meaning the lines to get up to the top can be very long. To see the Empire State Building, consider climbing the Top of the Rock instead. The "Rock" is Rockefeller Center, and visitors can go to the observation deck and see the Manhattan skyline – including the Empire State Building. If you want to relive "Sleepless in Seattle" and can't pass up the Empire State Building, consider purchasing a Fast Pass to get to the front of the line quicker.
The Brooklyn Bridge spans the East River and connects Manhattan and Brooklyn. It is a National Historic Landmark and popular spot for both tourists and residents, with 150,000 people crossing the bridge every day. Visitors can walk over the bridge or view it from places like the Brooklyn Heights Promenade, the Brooklyn Bridge Park and South Street Seaport.
Times Square is an iconic attraction in New York City that is a favorite spot for visitors. Attractions in the area include Broadway shows, restaurants, shops, Discovery Times Square, events and much more!
Tour Companies
Gray Line tours including hop-on, hop-off double decker bus tours and admission to many popular New York attractions like Top of the Rock, the Statue of Liberty and New York City museums.
City Sights NY offer double decker bus tours to many NYC sites, including Downtown NYC, Brooklyn tours and shopping tours.
Big Onion Walking Tours offer informative historical tours of many NYC neighborhoods, such as Brooklyn Heights, Harlem, the Lower East Side, Greenwich Village, Chinatown and Park Slope, to name only a few.
Circle Line cruises tour the waterways of New York City and allow visitors to see many famous landmarks. Tours include a full tour around the island of Manhattan, a Statue of Liberty cruise, and evening cruises on New York Harbor.
Upstate New York
Historical Sites
FASNY Firefighting Museum in Hudson looks at the history and culture of the fire service. The collection includes artifacts, photographs and antique apparatus, including a 1725 pumper. For hours, admission prices and more, visit the museum website.
Warren Street in Hudson is the center of the city's business district, and contains many sites on the National Register of Historic Places. Hudson is a thriving city sometimes known as a small extension of New York City with performance venues, art galleries, antique shops and restaurants.
USS Slater at the Destroyer Escort Historical Museum in Albany is a restored U.S. Navy ship from World War II. The USS Slater is now a museum and historic site in the Hudson River. Visit the museum website for tour times and more information on the history of the USS Slater.
Olana State Historic Site atthe estate of Frederic Edwin Church. Church is considered a prominent artist from the Hudson River School, an American-style of landscape painting. The Olana estate is located on 250 acres of land and offers exhibitions, art classes, tours and beautiful scenery in the Hudson Valley.
Tourist Attractions
The New York State Capitol in Albany is home to the New York Senate and is also a classic example of 19th century architecture. Take a tour of the building during the week by calling 518.474.2418. Walk-in tours are also available.
The New York State Museum in Albany provides cultural learning experiences through permanent and temporary exhibitions, learning programs and numerous collections about anthropology, geology, biology and history. Go to the museum website to plan your visit. Admission is free.
If you have time to travel during your cultural exchange program in New York, visit the world-famous Niagara Falls on the border of western New York and Canada. Niagara Falls State Park, where the falls are located, is open year-round but some areas are seasonal.
Tour Companies
Extreme Off Road Sports has snowmobile tours, snowmobile rentals and ATV rentals at Prospect Mountain in Lake George.
Discover Outdoors takes New York City residents on one-day and multi-day outdoor adventure tours, including hiking trips, rock climbing and mountain biking.
High Peaks Mountain Guides in Lake Placid provide outfitting and gear rentals, guided tours and outdoor adventure activities like ice climbing, cross-country skiing, snowshoeing and mountaineering.
Bear Cub Adventure Tours in Lake Placid offer several winter trips for adults and kids, including cross-country skiing, snowshoeing, ski tours and ice fishing.
Arts & Culture
New York City skyline at dusk. Photo by Dschwen.
The United States offers a wide variety of cultural learning opportunities through the arts. Dance, music, theater, opera, art museums and festivals are just some of the options available to international visitors who wish to learn more about the U.S. and its culture.
New York City
New York City is known as a cultural capital of the world and there are a seemingly endless amount of arts and cultural activities in the city at any time.
Browse the following websites for some of the latest arts and cultural events in NYC:
More arts and cultural resources for international visitors can also be found below.
Art Museums
Theater
Music and Dance
Opera
Upstate New York
Museums
The Albany Institute of History & Art (AIHA) is one of the oldest museums in the U.S. with works of art and historical objects from the past 200 years. It provides an excellent example of cultural learning in the Hudson Valley.
Steepletop is the name of the farm once owned by poet Edna St. Vincent Millay. Today, visitors can tour the house and gardens or take a Poetry Trail around the grounds. Located 30-40 minutes east of Hudson.
The Museum at Bethel Woods, at Bethel Woods Centre for Performing Arts, shares the story of Woodstock and the 1960s.
Performing Arts
Hudson Opera House offers arts and cultural programming throughout the year, including live performances, exhibitions and workshops.
Time and Space (TLS) is an arts organization in Hudson, NY that hosts movies, live music, dance, literary readings and theater performances, and broadcasts performances from The Met Opera and UK's National Theatre.
Lake Placid Center for the Arts is a performing and visual arts space in the Adirondacks. Visit the center website for an upcoming schedule, a list of events and workshops and other information.
Saranac Lake Artworks, which includes the Pendragon Theater, hosts year-round performances and educational events.
The Egg is a performing arts center and architectural attraction in Albany. Comedy shows, live music, film events, dance and theater performances are held at The Egg throughout the year.
Sports & Recreation
Yankee Stadium. Photo by Matt Boulton.
Many Americans are passionate about sports – and not just baseball and football! Get a glimpse into this part of American culture by watching or participating in a favorite U.S. sport or recreational activity in your local area.
New York City
Professional Sports
New York City is home to two of the state's major league baseball teams – the New York Yankees play in the Bronx while the New York Mets have a stadium in Queens. If you can, catch a Subway Series game when the two teams play one another and the crosstown rivalry is ignited!
In football, the New York Giants and New York Jets play in nearby New Jersey.
Basketball fans can watch the New York Knicks and New York Nets play in Manhattan and Brooklyn.
For professional hockey, watch the New York Rangers play at Madison Square Garden or the New York Islanders in Nassau Coliseum on Long Island (the team is planning to move to Brooklyn in 2015).
Recreation
Brooklyn Boulders is an indoor rock climbing gym with easy to advanced climbs, introductory classes for beginners and equipment rentals.
Joining a sports league is a great way to meet people, get exercise and have fun. Zog Sports and NYC Social Sports Club are two of the largest leagues you can join, and each offers a wide variety of sports at different levels of play. They also organize Happy Hours after games, so you can socialize and get to know your teammates.
Upstate New York
Whiteface near Lake Placid is home to Whiteface Mountain, the Olympic Center and the Olympic Sports Complex, and hosts many sports and events throughout winter. Visitors can try the biathlon, which combines shooting and skiing, cross-country skiing, snowshoeing at the Olympic Sports Complex, or downhill skiing and snowboarding at Whiteface Mountain.
The Empire State Winter Games is an annual winter sports competition that takes place in Lake Placid, NY. This competition offers a great opportunity to see many of the winter games played at the Olympics, including bobsledding and speed skating.
Baseball fans may enjoy traveling to Cooperstown to the Baseball Hall of Fame, located about 1.5 hours west of Albany. For information about the hall of fame, museum, tickets and events at Cooperstown, visit BaseballHall.org.
Professional Sports
Buffalo is home to many professional sports teams, including the Buffalo Bills (American football) and Buffalo Sabres (hockey).
College Sports
The system of SUNY schools throughout New York State provides many opportunities to see college sports in action. College athletics are an example of sport culture in the U.S. and can be a cheaper way to see some favorite American sports like football, basketball, lacrosse and baseball. Hockey is a particularly popular sport for upstate sports teams, including a major rivalry between the Oswego Lakers and the Plattsburgh Cardinals.
Skiing and Snowboarding
Ski and snowboard resorts can be found across upstate New York in areas like the Catskills and the Adirondacks. Check out this map of the major ski resorts in upstate New York for more information on the nearest ski and snowboarding area.
As always, make sure to have the proper safety equipment when you play any sport.
Outdoor Activities
Peekamoose and Table mountains in the Catskills. Photo by Daniel Case.
The United States is home to a variety of landscapes and climates to suit all types of outdoor activities. The courageous traveler can find more challenging sports and outdoor adventure tours, while others may want to keep both feet on the ground in a national park or forest. Whatever your interests, take advantage of the many outdoor activities available during your time in the United States.
New York City
Central Park is a must-see spot in New York. Running, walking, biking and various sports are popular outdoor activities in the park, along with free concerts, horse and carriage tours, walking tours and the Central Park Zoo.
Don't miss the High Line, an elevated park built on an abandoned freight rail line. The park often hosts performances, art exhibitions and educational programs throughout the year. Find tour information, park hours, access points and other information at the High Line website.
The Downtown Boathouse offers free kayaking programs on weekends and holidays from May to October at multiple locations in NYC.
Upstate New York
Catskill Forest Preserve is located in the Catskill Park, a large region of public and private land in upstate New York. At the Catskill Forest Preserve, visitors can enjoy 287,500 acres of public land for activities like hiking, camping, fishing, skiing, rock climbing and snowmobiling.

Bear Mountain State Park is located on the Hudson River and offers outdoor activities for all seasons. In winter, enjoy outdoor ice skating, cross-country skiing and nature trails.

For more on the many other parks in the New York region, visit the NYS Parks website and search by region.
Popular winter activities for our cultural exchange participants include snow tubing, snowmobiling, snowshoeing and ice skating. Some local areas to try out some of these winter activities include Hunter Mountain, Windham Mountain, Belleayre Mountain in the Catskills, Whiteface or Gore Mountain near Lake Placid, any of these ski areas listed on the New York State tourism bureau website, or by visiting the list of national parks above.
Food
One of the best ways to experience cultural exchange is through food and cooking. Visitors will enjoy exploring the regional specialties and local cuisine during their time in the United States.
New York City
Local Favorites
New York is one of the greatest culinary cities in the world. There are a huge number of ethnic groups in the city and surrounding regions. Some of the world's best chefs call New York home. New restaurants are constantly opening in the city and great food can be found at all price ranges. Some local favorites in New York City include pizza, bagels, pastrami sandwiches, New York cheesecake, Manhattan clam chowder and hot dogs, to name only a few.
Multiple websites offer helpful guides about eating in New York, including neighborhood guides, updates on new openings, and where to find cheap food, including New York Magazine and Time Out New York.
New York City Markets
Grow NYC is a non-profit organization that operates 54 Greenmarket farmers' markets in the five boroughs of New York City. A list of Greenmarket locations can be found on the website.
What is Fresh is a guide to farmers' markets and local food available in New York City. Find an open market by visiting www.whatisfresh.com or following @freshapp on Twitter.
New York City Food Festivals
New York was the first city to hold a "Restaurant Week", allowing diners to try some of the city's best restaurants at a discounted price. Now Restaurant Week is held in winter and summer. Reservations are recommended!
NY Vegetarian Food Festival is a two-day festival in March with food samples and meals from top vegetarian restaurants and companies. Live entertainment and activities are also held during the event.
Ninth Avenue International Food Festival is an outdoor street fair in May that features many different types of cuisines from around the world. Vendors also sell clothing, jewelry, arts and crafts, and other items and live entertainment is featured throughout the day.
The NYC Food Film Festival shows food-related documentaries, short films and feature films while also giving the audience a sample of the food that is being featured on screen.
Upstate New York
Local Favorites
Some signature foods from upstate and western New York include spiedies (pronounced "spee-dees") which originally came from Binghamton but are now found throughout the area, Buffalo wings from (you guessed it) Buffalo, and a type of hot dog called white hots. They may not be the healthiest of foods, but they are part of the food culture of New York!
Farms and Farmers' Markets
Upstate and western New York is home to many farms, markets and farm stands selling fresh produce. Some farms also let you pick your own fruit and vegetables, like apple orchards, pumpkin farms and berry farms.
Farmers' markets in the Albany region can be found on Albany.com, or you can look through this directory of farmers' markets in New York. Pick-your-own farms, which allow visitors to collect their own produce, are also available.
Food Festivals
Food festivals are often held in summer but you can find autumn and winter events as well. Remember – you MUST be at least 21 years old to drink alcohol in the United States.
Local Festivals
For a unique and local perspective on American cultural, be sure to check out festivals and events near your cultural exchange program location. These events are a fun and interesting way to interact with locals and to learn more about the unique aspects of American culture in your immediate area.
New York City
The Tribeca Film Festival screens short films, documentaries and independent films and hosts panel discussions for the public and the cultural community. To see this year's film selection and to buy tickets online, visit the festival website.
Make Music New York is a free event on June 21st and December 21st with thousands of free concerts and musical performances. Members of the public are encouraged to participate in these events, which are held throughout New York City.
Grand Army Plaza in Brooklyn is home to the world's largest menorah lighting. The menorah is lit for the public each evening during Hanukkah.
The Chinatown Lunar New Year Parade and Festival is an exciting event in New York's Chinatown neighborhood. A parade with cultural performers, antique cars, thousands of marchers, dancers and music travels through Lower Manhattan in a huge event with hundreds of thousands of spectators.
During the summer, the Celebrate Brooklyn! festival brings free concerts, dance, music and theater to the Prospect Park Bandshell.
Find more local New York events at NYCgo, the official NYC guide.
Upstate New York
The MoHu Arts Festival takes place across the Capital Region of upstate New York in areas bordering the Mohawk and Hudson Rivers. For 10 days in October, visitors and locals will enjoy theater, dance, music performances and visual arts from over 150 art and culture organizations.
The Victorian Stroll in Troy, near Albany, attracts almost 20,000 people each year. In December, downtown Troy celebrates Christmas with street performers, music, food, carriage rides and other activities.
On January 1st, Lake George celebrates the new year with its First Day celebrations, including a polar bear plunge into the freezing lake. This event marks the beginning of the Lake George Winter Carnival, a family event that goes until February.
Located 10 miles west of Lake Placid, the Saranac Lake Winter Carnival allows residents and visitors to escape the February winter blues with fun cultural events, parades, activities and an Ice Palace.
See a list of major events and festivals in the Plattsburgh - Lake Champlain region.
Browse annual events and festivals in the Albany region.
Search for events in the Hudson River Valley.
Housing Resources
Restored historic houses and stores in downtown Rosendale, NY. Photo by Daniel Case.
Host employers may be able to assist with housing during your time in the United States, but this is not always the case for all types of participants. Many participants will find housing on their own. When looking for housing during your cultural exchange program, consider the cost of the accommodation, the distance to your work place and the amount of time you will be in the United States.
It's also important to avoid fraudulent housing. It is highly recommended that you secure short-term housing upon arrival (e.g. in a hostel) and conduct your housing search once you are in the U.S. Never give your financial information to a stranger over the Internet. Browse the Housing Information guides for InterExchange participants below for more tips and advice.
General Housing Information
New York Housing Resources
Some examples of housing and accommodation resources for New York participants include:
New York City Housing Resources
Finding housing and apartments in NYC can be expensive and frustrating! Make sure to do your research about different neighborhoods and prices before you arrive. Also read Career Training USA's guide to NYC apartment searching on a budget. Here are some helpful websites:
Transportation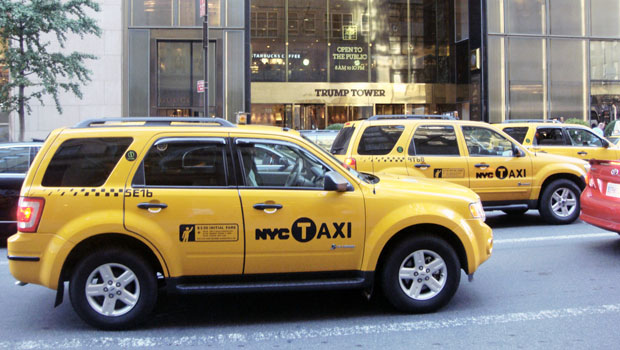 Taxis on Fifth Avenue in Manhattan. Photo by Mario Roberto Duran Ortiz.
Public transportation options can be hit or miss, depending on your location in the United States. Buses are a common transportation option for short and long-term travel in the U.S., while more urban areas will also have trains, subways and other options.
New York City
Visit the MTA website for information on New York City subways, buses, the Long Island Railroad, Metro North railroad (also see below) and Staten Island Railway. Travel alerts, schedules, ticket information and system maps can also be found on the site.
Hop Stop is a great website to use to help you navigate NYC public transit. (It is available for other cities too!) Just enter your starting address and the address you want to go to, and Hop Stop will generate your route. It also has a free iPhone app!

Train
Metro-North trains run from Grand Central Station in New York City to points as far north as Wassaic and Poughkeepsie. A map of Metro North stations can be found at the MTA website.
Amtrak offers several train routes for upstate and western New York, including stops in Poughkeepsie, Hudson, Albany, Utica, Lake Placid (via train and bus) and Plattsburgh.
Bus
Trailways offer bus services throughout upstate and western New York. Schedules, prices and routes are available on the Trailways website or by calling 800.776.7548.
Greyhound also provides bus services throughout the country, including New York. Browse the list of Greyhound bus stops in New York State.
Albany area
CoachUSA services are available throughout New York State, including MegaBus routes between Albany and New York City.
Hudson/Catskills/Ulster County area
The Greene County Transit System transports passengers from the Village of Catskill to nearby areas.
Ulster County Area Transit offers public transport in Ulster County, including transportation to Belleayre Ski Center, Plattekill, Saugerties, Woodstock and Poughkeepsie.
Plattsburgh/Lake Placid area
Local transportation options, including resort shuttles, airports, taxi services for Lake Placid are available on the Lake Placid tourism website.
CCPT serves Plattsburgh and the surrounding area in Clinton County.
Health & Safety
Participants in New York can use the following resources in case of an emergency or extreme weather event in their area:
Emergency Management Agencies
FEMA
New York Weather Information
Help Your Community
Long Island North Shore. Photo by Kelvinsong.
Interact with others and expand your skill set by volunteering in your local community. Volunteer organizations are often looking for short-term volunteers or for individuals to help with a single event, making it a great option for InterExchange participants who wish to add to their cultural exchange experience during their time in the United States.
Volunteermatch.org, Idealist.org and Serve.gov are three general volunteer websites that match local organizations with volunteers in their communities.
New York City
NYC Service is a website from the City of New York that matches volunteers with organizations across New York City. Search by interest, location and date by visiting the NYC Service website.
New York Cares runs volunteer programs for 1,300 non-profits, city agencies and public schools. Long and short-term volunteer opportunities are available across the city.
The Food Bank for New York City needs volunteers for various activities, including serving the homeless, raising public awareness and helping with fundraising.
Upstate New York
Find volunteer opportunities in Ulster County in arts and culture, education, health, women's services, youth services and more. Visit the Ulster Community Guide for more information.
Olympic Regional Development Authority (ORDA) in Lake Placid organizes national and international events and are often in need of event volunteers.
For Albany volunteer opportunties and for more information on Albany non-profit organizations, visit the Volunteer page on Albany.com.