Au Pair USA's Top Five Tips for Staying Healthy This Fall
It's back-to-school season, there's a cool breeze in the air and the leaves have started to turn. Fall is here, and, as always it brings with it those seasonal sniffles! Help kids stay healthy as the weather changes with these top 5 tips from Au Pair USA: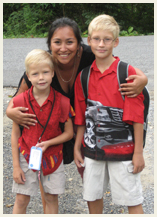 1. Wash your hands
Wash hands with warm, soapy water frequently throughout the day and especially before meals. Hands should be washed for at least 30 seconds (about the time it takes to sing two rounds of ABCs!) If you don't have access to a sink, keep hands clean with a hand sanitizer.
2. Practice good health habits
Make sure to reinforce healthy habits for the best shot at staying healthy during the flu season. Eat lots of fresh vegetables, fruit and whole grains, sleep regularly with a consistent routine, drink plenty of fluids, get lots of exercise and take a daily multi-vitamin. Infants and young children (6 months to 8 years old) should get a flu shot.
3. Dress appropriately
Bring out those layers, hats and gloves! Colder temperatures can attack your immune system, making it more difficult to fight off germs. Kids should always wear their gear outside, even when then think it's unfashionable!
4. Cough safely
Teach your children to sneeze and cough into their sleeve or elbow to prevent others from getting sick.
5. Avoid close contact
Tell your children to keep their distance from other children who are sick. If your children do catch a bug, try to have them stay home to rest and to help prevent others from getting sick.
Don't forget, one of the many advantages of hosting an au pair is that they are at home with your kids, so you won't have to take time off work if they are sick.
Au Pair USA wishes everyone a safe, healthy and happy fall!
Matthew Graves
A fan of independent cinema and proponent of the Oxford comma, Matthew began his career at a Miami-based tech startup before returning to West Virginia University to pursue his M.A. in Foreign Languages. He has worked at InterExchange since 2006 and currently serves as a Marketing Project Manager.