---
'Health and Safety Reminders for Spring! '
---
2 minutes
By Kate Ferrin, Participant Services Manager at InterExchange Au Pair USA
Spring has arrived! And with it comes baseball, warm temperatures and flowers in bloom*!
Below are some of the health and safety tips that you learned at Orientation & Training in New York City. It is important to keep these guidelines in mind as the weather warms up. Remember: Safety is your number one priority!
Dehydration Prevention: Always make sure you and your host children drink lots of water before, during and after an activity. Always have water with you wherever you go, as you should drink water every 15 to 20 minutes while active.
Bee Stings: Remember to scratch the stinger out! Clean the area around the sting very thoroughly; Use ice to decrease the swelling of a normal bee sting; Watch for signs of rash or severe swelling due to allergic reaction for 30 minutes.
Sunburn: Talk to your host family about the amount and type of sunscreen to apply to your host children. Children can wear clothes that reduce their exposure to the sun, but you should still limit the time that the children spend in direct sunlight.
Storm Safety: Stay inside during a lightning storm and do not shower or bathe. Also, do not use the house phone (land line) during an electrical storm. If you are outside, do not be in or around water, and stay away from water until 30 minutes after the storm.
Poison Ivy and Poison Oak: Most areas in the U.S. have some form of poison ivy or poison oak. The oil on the leaves of these plants can cause a severe, contagious rash. Check online or at the library for images of what your local plants look like.
Tick Removal: Ticks are common during the warmer months. When removing a tick with tweezers, be sure that the head is not embedded under the skin. Clean the area well after removal. If rash, aches or flu-like symptoms occur, seek medical attention.
Road Safety: When walking, biking or running with children on a road, make sure that the children are on the inside and away from traffic. Always hold your host child's hand when crossing the street and look both ways before crossing!
*When the flowers come out, many au pairs may experience seasonal allergies for the first time. Talk to your host family or pharmacist about the many over-the-counter allergy medicines you can take. Remember, never give children any unauthorized medicines!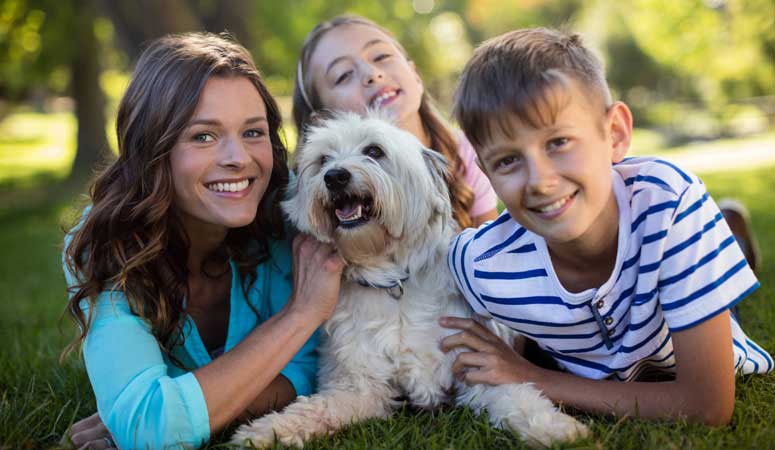 Experience life in the U.S. while living with a welcoming American family.
Sign Up
Learn More
Call Us