---
Au Pairs Can Help Teach Responsibility Through Caring for Pets
---
2 minutes
Many host families who are considering inviting an au pair into their home have pets. Caring for animals can not only be a valuable opportunity for children to bond with their au pair, but also a great way for caregivers to reinforce the importance of personal responsibility.
Parents can work with their au pair to establish boundaries for pet care and make sure children learn to accept responsibility for their animals.
Emphasize Clear Communication
It is important that host families communicate their expectations to their au pair from the outset. Although taking care of the family pet may not be exepcted of every au pair, it can be useful for everyone to be on the same page when it comes to looking after animals.
If an au pair contributes to animal care, a host family should take the time to inform their au pair of the expectations regarding helping with the family pet.  This provides au pairs with an opportunity to teach children the importance of caring for an animal, and can help define the children's role in participating in these pet-related chores.
While caring for a pet is not always expected of an au pair, if he or she likes animals and wants to become actively involved in their care, host families can use this activity as a way for the au pair to join in a common family chore and bond with the pet.
Developing a Routine
Au pairs can be instrumental in teaching children the value of responsibility. Walking the dog, feeding the cat or grooming an animal can be a part of kids' regular chores, and au pairs can work with host families to determine an appropriate schedule for these activities.
Pet ownership and care can be a valuable experience for children, and the benefits of caring for animals is well documented.
"Developing positive feelings about pets can contribute to a child's self-esteem and self-confidence," reads an article published by the American Academy of Child and Adolescent Psychiatry. "Positive relationships with pets can aid in the development of trusting relationships with others. A good relationship with a pet can also help in developing nonverbal communication, compassion and empathy."
With tact and open communication, au pairs can encourage a love of animals in kids and help them learn the value of responsibility through pet ownership.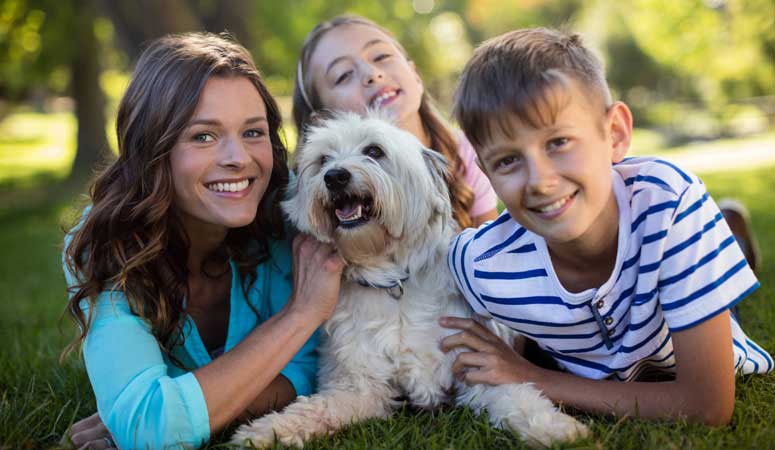 Experience life in the U.S. while living with a welcoming American family.
Sign Up
Learn More
Call Us