---
Happy Mother's Day to Our Au Pair USA Family!
---
2 minutes
From the Martha Stewart website[/caption]
Mother's Day is a special day for families young and old. Flowers, breakfast in bed and homemade cards are just some of the fun gifts moms (and child care providers) will receive this Sunday, May 12.
Mothers' favorite gifts are those made by their children. Au pairs can help their host kids with some fun crafts to give as presents to moms and grandmothers. Martha Stewart's kids crafts have some great ideas. One of our favorites is a coupon book that au pairs and kids can add.
Coupons like washing the dog, spending a fun day outside together and making a special dinner are some of the coupons kids can make for the book. Below are the directions from the Martha Stewart website:
Materials needed (au pairs can help younger children with the more difficult tasks):
Scrapbook paper
Craft knife
Edge punch
Craft glue
Paper ribbon-style labels
1-inch circle hole punch
Double-sided tape
Foam dots
Letter stickers
Fun small foam shapes/pictures to glue on paper
Directions:
1. Start with a 12-by-12-inch piece of scrapbook paper. Fold paper in half, then in half again, and then in half again, ending up with a 3-by-6-inch folded piece.
2. Open folded paper piece. With a craft knife, cut a slit along the center fold, leaving 3 inches at the top and bottom intact. Fold to make coupon book (see video for demonstration of how to fold).
3. Cut a 3-by-6-inch strip of scrapbook paper, and use border edge punch along edges. Use double-sided tape to adhere to front cover of coupon book.
4. Embellish cover strip with letter stickers to say "MOM."
5. Decorate cover with stickers, drawings and pictures
6. Cut out coupons to fit inside book and write "For the Best Mom" on them
7. Write out 3-10 coupons with different activities and chores children can do for their mom
8. Place coupons inside of the book and tie closed with a piece of ribbon
If you are interested in hosting an international au pair, visit InterExchange Au Pair USA for more information about affordable child care in your area.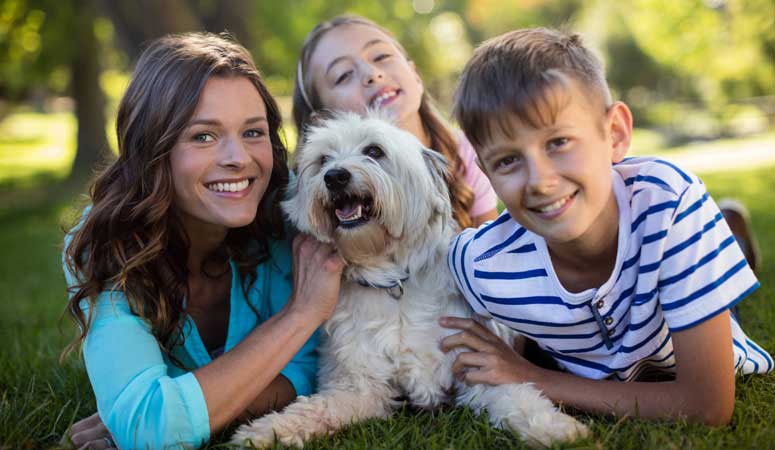 Experience life in the U.S. while living with a welcoming American family.
Sign Up
Learn More
Call Us