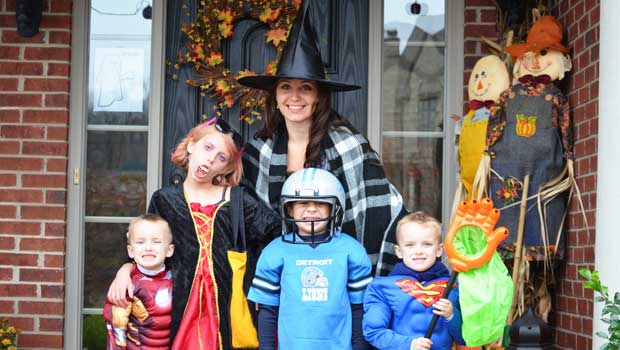 Trick or Treating Safety
Trick or Treating is a US Halloween Tradition in which children go door to door saying "Trick or Treat" and are given a candy "treat".
Au Pairs: Keep Your Children Safe While Out
Only stop at houses with their porch light on.

Stay on the sidewalk when walking and hold younger children's hands.

Carry a flashlight with you.

Watch out for cars on the street and backing out of driveways.

Be on the lookout for dogs, jack-o-lanterns and candles that a child's costume might catch fire on items a child might trip over in the dark. 
Teach Your Children: Thank You
Teach your child how to say "Thank You" in your native language. Encourage them to practice it every time they are given a piece of candy.
Candy Safety
Au Pairs: Inspect Candy for Safety

Do not allow your child to eat any candy until you have gotten home and had a chance to exam it.

Look closely at each piece of candy and throw away any that is open, has a tare in it or looks suspicious.

Have your children eat a good meal before going out so they are not tempted to eat the treats while out.

Throw away any homemade treats—cookies, fruit, etc. unless you know the person who gave them to your child.

If your child is under 4, throw away any candies remove candies they might choke on from their stash—small, hard, round, nuts, gum etc.
Teach Your Children: Brush Their Teeth Properly  
Encourage your children to brush their teeth. Make it fun. Take them shopping for a  new toothbrush and allow them to pick out the color.  Make up silly songs about brushing your teeth and brush yours along with them.
Joanna Lehmann
Joanna was the InterExchange Au Pair USA Orientation Manager from 2006 until 2011. In this role, Joanna had the pleasure of welcoming thousands of au pairs to the United States and assisting host families with their year. Joanna then served as the Local Coordinator for Brooklyn, New York from 2011 until 2015. Joanna greately values cultural exchange and the positive impact it has on all those involved. She has spent many years working and traveling throughout Eurpoe, Asia, Africa, and Australia. She has worked as an au pair in Italy and Egypt.