---
Memories That Mean the World: True Patriots
---
2 minutes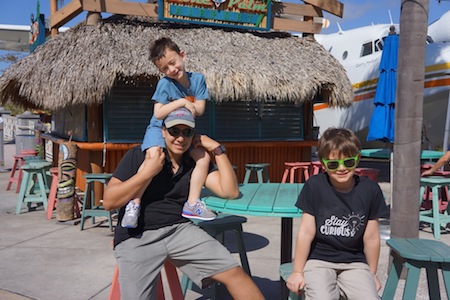 At InterExchange Au Pair USA, we're celebrating our 25th anniversary this year by sharing Memories That Mean the World. What's a Memory That Means the World? For us, it's the type of memory that only happens through cultural exchange, when young au pairs from around the world make unforgettable connections with the U.S. host families that welcome them.
This month's Memory That Means the World comes from Gustavo, from Brazil, and his host family, the Kalafers. Gustavo has had a great influence on his two host kids, both boys, as they try to learn their instruments.
"Well, at first it was not that easy. Broden did not like practicing playing the piano, so he did not take it so seriously," Gustavo said. "Today, thanks to his parents' support, and the work that we did together, both of his teachers consider him an advanced student, for a six-year-old, and if one day you come to visit us, Broden will be happy to welcome you playing the 'Turkish March' music on the piano!"
Gustavo's work with the two brothers on their musical abilities also paid off with an incomparable Memory That Means the World.
"While Broden is learning how to play the piano, Zachary is learning how to play the guitar. And like his brother, practicing an instrument has always been a complicated task," Gustavo said. "It was a lot of work at the beginning to make this part of the learning process into something more pleasurable, but after persisting, we could greatly improve his performance, which resulted in the opportunity of playing the national anthem in a duet at the opening of the Somerset Patriots baseball game. That moment was very special for both us and the family."
Gustavo's time with the Kalafers also included an amazing cross-country road trip of a lifetime. The family visited 14 states and saw incredible sights.
"I believe that the success of this trip is due a lot of factors, and one of them would be the great bond created between my host family and [me]," Gustavo said.
The experience of hosting Gustavo has not only enriched the lives of the Kalafers, it's given Gustavo a level of perspective most people don't reach until much later in life.
"The fact that we have different habits and customs is what makes each one of us unique, and to have the willingness to share our life with others, those who one day were separated by thousands of miles away, is what makes the USA the richest country in the world," he said.
Want to read about more Memories That Mean the World? Read our previous posts: