---
Angelique Explores the U.S. and Brings the World Home
---
3 minutes
Images courtesy of Angelique Vos
It's been 18 months since I started my journey through this supercalifragilisticexpialidocious country of stars and stripes. I am from South Africa, and used to babysit in my home country. I was an au pair for 2 boys for 15 months in the Netherlands, and now I am in the U.S., where I was fortunate enough to get matched with a fantastic family in North Raleigh.
I have traveled many places in the United States!
During my time here, I have hiked through the hills in the woods in the yard with my host kids, to Chimney Rock and Mount Mitchell with my best friend, and to the beautiful mountains in West Virginia. I have swam in the Gauley river while white water rafting, Falls of Neuse lake while tubbing, in the ocean at south point after my 40 foot cliff jump in Hawaii, then there is of course the neighbourhood pool. My host kids and I have defied gravity more than once on trampolines and rock climbing.
Angelique was able to see a lot during her time in the U.S. Images courtesy of Angelique Vos
In Tennessee, I shook up my blue suede shoes at the country music hall of fame. At the big silver "bean" in Chicago, I savored my first cup of delicious Starbucks. In the big Apple, I tasted a delicious slice of New York pizza followed by a New York cheesecake. And it was in DC that I fell in love with this country. I love the monuments, the museums, the White House, and not to mention the cherry blossoms. And last but not least, in Florida I got to live out my own "American dream" at Disney world.
I'm always looking for a way to bring the world to my host family.
Even though I am in the USA, I travel so many different places every day. When the kids and I wake up, we usually decide if we will "travel". Sometimes we "travel" to France for the morning, speak some French, and have some freshly baked croissants with Nutella and freshly squeezed orange juice. We also do a bit of trivia on the country.
Angelique has really bonded with her host family (and host dog!) Images courtesy of Angelique Vos
By 10:00, we travel to Great Britain for a spot of tea at the mad hatter's tea party with cucumber sandwiches or a light snack. By lunch time, we find ourselves in Mexico eating some chicken quesadillas, and then it's time for a safari through the house where we find all sorts of hidden fun. Soon the day is over, and we have our last stop at mom and daddy's homemade Italian bistro, where it's said it will be cloudy with a chance of meatballs. After the kids travel to dreamland, I continue on my journey to kendo (Japanese Sword Fighting) and Karate, Archery (So I can pretend I'm Merida from Ireland) and Spanish lessons (Mexico).
This experience and program has been the best decision of my life. It is with a heavy heart that the family, the kids and I realize that, in the words of Nanny McPhee, "When you need me but don't want me, then I will stay. When you want me but don't need me, then I have to go."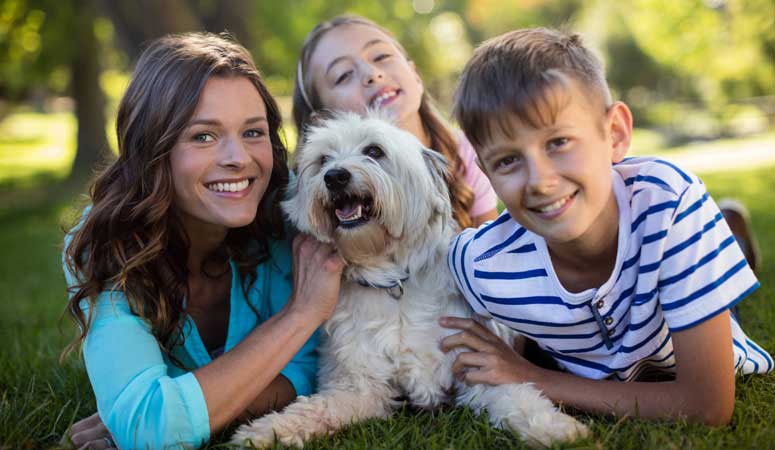 Experience life in the U.S. while living with a welcoming American family.
Sign Up
Learn More
Call Us