---
Giving Back: Au Pairs Volunteer in the Raleigh Community
---
6 minutes
One of the ways that InterExchange encourages our participants to experience American culture and get to know their local communities is by suggesting that they volunteer during their time in the U.S. Three au pairs in the Raleigh Cluster have taken that message to heart. We interviewed these three au pairs about their experience and what they've learned about the Raleigh area by volunteering their time. Here are some of their thoughts about their experiences:
Carolina: Spreading joy at the hospital
Carolina is from Mexico and has been an au pair for two years with a family in Raleigh. She began volunteering at Rex Hospital (UNC Rex Healthcare) near her home by helping in the gift shop one day a week. She earned her degree in Psychology before she came to be an au pair, but through her experience as an au pair she has decided to pursue nursing. She is currently working on her nursing degree.
What made you decide to volunteer?
Carolina: I wanted to get involved in the community where I live, and in my opinion, volunteering is a great way to do it. I think the au pair experience is all about getting to know a different culture. To do this, you have to immerse yourself in the community.
What did you do while volunteering?
Carolina: I've been working in the Gift Shop helping the customers to find what they need. We take flowers to the patients, wrap presents, and take orders on the phone. When someone needs help in Spanish, I help them.
What did you learn about your community from volunteering?
Carolina: I'm finally able to recognize the southern accent. I think my English has improved since I work with English speakers. I have learned that in this state, people are very conservative, polite, and kind.
What did you learn about yourself from volunteering?
Carolina: I learned to organize my time. Being a volunteer means making a commitment to yourself and to the community. I realize that I really love to help others, and it's very rewarding when your work is praised.
How will volunteering benefit you in your future goals/plans?
Carolina: I believe it is going to benefit me in the future since I'm studying nursing. Getting used to the environment in the hospital is very important. I am getting to know doctors and nurses, which enriches my networking.
---
Nikol: Using her language skills to provide support for children in Guatemala City
Nikol is from Costa Rica. She has been living as an au pair in Raleigh for the past year and has extended for nine more months. She has connected with the non-profit Lemonade International, which partners with local leaders in La Limonada, Guatemala City, Guatemala to support community development programs. La Limonada is the largest urban slum in central America, and the organization supports schools and programs for children and families who live there. Nikol has been able to put her English skills to use by translating letters from the children in La Limonada from Spanish into English. The letters are part of Lemonade International's student sponsorship program.
What made you decide to volunteer as an au pair?
Nikol: When I realized that I had some free time, I decided to use that time contributing to the community. There's a lot of helping to do out there.
How many hours did you volunteer?
Nikol: Every two weeks I receive a bunch of letters from kids from Guatemala that need to be translated into English, so that the children and their sponsors can communicate. I do this whenever I have free time. It's nice, because I can easily fit it into my schedule.
Where did you volunteer and what position did you have?
Nikol: I'm volunteering for Lemonade International, it's an organization that supports La Limonada, Guatemala. They have children that are sponsored by families here in the U.S. to be able to attend school. Since the letters the children write are in Spanish, they need help translating them into English to share with the families.
What did you learn about your community from volunteering?
Nikol: There's a lot of people helping others and that's great. America has this huge amount of people volunteering for different organizations, and that's what other countries should start doing.
What did you learn about yourself from volunteering?
Nikol: I've learned that I like the feeling of helping others. It's similar to the feeling you get when you're done with working out at the gym! You feel good about yourself.
---
Angi: bringing fun and positivity to children undergoing medical procedures
Angelique is from South Africa. She just finished being an au pair for two years with a family in Raleigh. During her time with the family, she decided to volunteer at WakeMed Hospital working with their Child Life Services department in the Children's Emergency Room. She helped children keep their mind off their medical procedures. It was a natural fit for Angi because she loves working with children so much.
What made you decide to volunteer as an au pair?
Angelique: I wanted to give back to the Raleigh community after all that has been given to me, especially the opportunity of going to America. And what better way to make a change and impact in the community then volunteering?
What did your volunteer project involve? What did you do?
Angelique: I was responsible for sanitizing any toys that the patients played with, as well as the toys in the waiting room. I also folded laundry and organized the storage areas. Additionally, I was taking care of patients and their wellbeing while they stayed with us. I also transported the patients between departments.
What did you learn about your community from volunteering?
Angelique: Raleigh is a very diverse community in terms of ethnicity, finances, and many other factors, but at the end of the day none of those mattered when it came to saving a life or making a difference. It was beautiful to see how people put aside their differences for a common cause.
What did you learn about yourself from volunteering?
Angelique: That I become a better person by helping others. It's a passion I've developed to be able to give a little hope or sparkle to the kids during dark times when they need it the most.
How did your host family feel about you volunteering?
Angelique: My host family supported my volunteering. They were happy that I was utilizing my free time to make a change and a difference in the community.
---
Volunteering during your year as an au pair is a great way to experience life in America and explore a new interest or hobby. It will help you improve your language skills, make connections to your community, and provide you with an opportunity to give back. The people you meet will have the chance to learn about you and your home country, thus furthering the mission of cultural exchange. The organization you help benefits from your help and you gain a new skill or ability! Find a way to get involved in your community today!
Suzanne Miller
Suzanne is the InterExchange Au Pair USA Local Coordinator for Raleigh, North Carolina.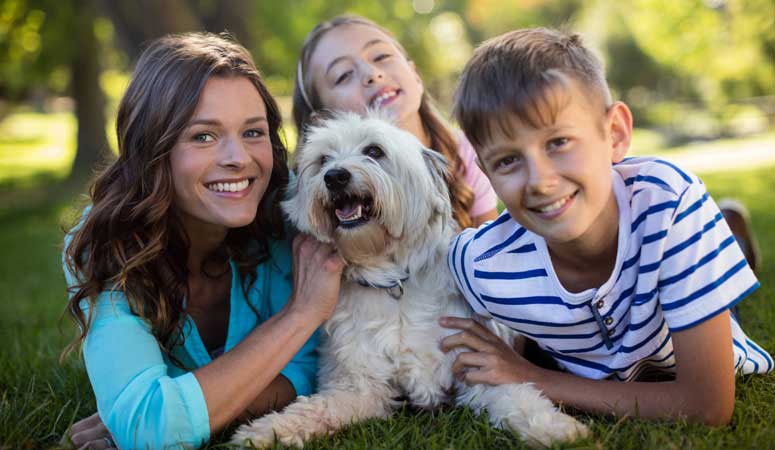 Experience life in the U.S. while living with a welcoming American family.
Sign Up
Learn More
Call Us