Alumni Spotlight: Josine On Why The Au Pair Program Means So Much To Her
By Joy Lo
---
Being an au pair in the USA changed everything for Josine from the Netherlands. Josine took time to reflect on her experience and how it impacted her both personally and professionally. Here's what she had to say, in her own words.
Coming from The Netherlands, a relatively small country, I've always wondered what it would be like to live in a bigger country. Europe is scenic, but I wanted to experience something further away. When I applied to the au pair program, I had just turned 24, and I was working at a daycare center. The idea of moving to a different country appealed to me, and I had friends who had done some traveling on their own. I took a chance, and if I had known then what I know now, I would have done this a whole lot sooner.
Image courtesy of Josine L.
Now that I'm back in my home country, I am going to try to explain why this au pair program is truly an exceptional way of experiencing a different culture. To start, you can come to the United States as a tourist, but you will never get the same experience as an exchange visitor. As an au pair, I felt like a local and a tourist at the same time. For my first year, I moved to a suburban town near Washington D.C. I learned to appreciate Washington D.C. on a whole different level, to appreciate the capital in all its glory. My au pair job allowed me to explore the area as a local. Would I have visited the gorgeous waterfront in Georgetown as a tourist? Probably not.
Image courtesy of Josine L.
And how cool it is to say you live in the States? My host family during my first year was very accommodating and welcomed me into their home. I took care of two young kids, and I came to love them as if they were my own!
As any other au pair, the first weeks were challenging. Aside from having to deal with adjustments and living in a new area, I was also responsible for two toddlers. My host parents made sure I knew my way around town and did everything to make me feel at home. Little things like making a Valentine's card for me or getting me the bread I like so much. It worked because within a month I'd say to my friends, "I'm going home." And I meant my home in Maryland, not my home in the Netherlands. My home was with my host family!
Image courtesy of Josine L.
My second home in Seattle during my second year went just about the same. My host moms took me in, and in return, I got to bond with a baby girl and was there during all of her milestones in her first year. That was quite a different experience than taking care of two toddlers, but simultaneously an honor to see all her firsts in a year's time.
Image courtesy of Josine L.
After I had found my routine with the children, I developed my way of au pairing. This program has provided me with the opportunity to develop myself on a personal level. I thought I had figured myself out pretty well. As it turns out, I never stopped learning. When I had received my Bachelor Degree in Social Work, I had done a lot of self-reflection, and I thought that it had been enough. As an au pair, I had to deal with starting all over again in a new country, adjusting to a new culture, and taking care of two kids while still satisfying my desire to travel around the country. That was a lot to take in. But thanks to this program, I got to learn how to cope with balancing my life as an au pair.
There were activities that had me engage in my community. Cluster meetings were a great way for me to meet other au pairs, speak to my Local Coordinator, and do something fun! Other than it being fun, I got to learn about the local culture on a deeper level.
Image courtesy of Josine L.
Many people think it may just be a job where you take care of someone else's children, but what they don't realize is that it is so much more than that. I got to experience a family culture in a different country while living there as well. That goes so much deeper than just taking care of. For me, it turned into caring for. I have such fond memories of my time abroad in the United States.
Being an au pair has had an impact on my career choice. I'm currently working as a nanny at a daycare center in The Netherlands, and I sometimes catch myself feeling homesick to my time as an au pair. I always loved working with children, caring for them, seeing them grow right in front of my eyes was something I took great pleasure in. After being an au pair, I did not want to say goodbye to working with children. It was only natural for me to apply for a job in daycare centers. The transition from working in families as an au pair to working at a daycare center, taking care of a group of children was easy. My experience abroad has broadened my horizons and established my way of working with children and their parents. It made me more open to different views of upbringing children, and I use this experience every day in my job.
Image courtesy of Josine L.
Besides my day job, I also volunteer at the local au pair agency. I help out with conferences, give presentations, and answer questions from prospective au pairs. Volunteering helps me to keep the experience alive and make more people aware of the au pair program.
And last but not least, my love for traveling has grown immensely. My family is originally from the Moluccas, and this destination is high on my list. Furthermore, I've visited an old au pair friend in Germany, which brings me to another significant part of the au pair program: making friends from all over the world. I have met people from South Africa, Brazil, Columbia, Japan, Spain, Germany, England, and many European countries. Some of them I still keep in touch with, and plans are made to meet up again. International friendships are great for traveling!
This month I'll be traveling to Paris, and I'll also go back to the States this year to celebrate my oldest host kid's birthday. Incidentally, my roommate also happened to be an au pair in the States. We met in the D.C. area when we were au pairs, and now we live together as roommates in the Netherlands. It's fun having someone around to share stories with and reminisce about our time as au pairs!
Image courtesy of Josine L.
I can go on and on about what makes the au pair program an excellent exchange program. But it is something you would have to experience for yourself. I've always said, "I'd rather do something I'd regret later than having to ask myself the question what if?" At least I get to say I did it! Enjoy the time you have when you're abroad, cause time really does fly when you're having fun. And I had a blast. That's probably why two years felt like two days.
I'll end with one of my favorite travel quotes by Miriam Adeney, "You will never be completely at home again because part of your heart always will be elsewhere. That is the price you pay for the richness of loving and knowing people in more than one place."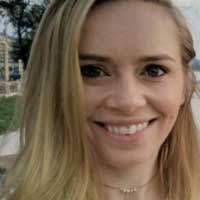 Joy Lo
Joy is a huge advocate for cultural exchange. She's lived across the USA, then moved overseas to London and Sydney. She currently resides in Jakarta, Indonesia, giving her a unique perspective on working and thriving in a culture not her own. Joy graduated from the University of Sydney with a degree in Marketing and started her career in the au pair industry. She works on the blog and social media for the Au Pair USA program.