Meet au pair Mai from Japan! Mai was an entrant in this year's Super Au Pair contest and we're so proud of how hard she works to be a great au pair.
Mai lives in the greater San Diego area with the Groff family, where she cares for Piper (age 9) and Jenna (age 13). Mai calls Piper and Jenna her little sisters and has helped them overcome common obstacles like finishing their lunch at school and treating other kids with fairness at playtime. Mai even helps Piper with speaking Japanese while also educating the entire family about Japanese culture.
Mai's host mom, Stacey, is thrilled to have Mai in her home as an example to her little girls. Stacey shares,
Mai is truly amazing. She possesses every quality I want my girls to have when they are her age. Mai has integrity, she is loyal, honest, kind, smart, patient, sweet- the list could go on and on.

Our lives changed in February 2017. After having two au pairs that sadly did not work out we had a very nice transitional au pair that gave us hope in the program and in finding the perfect fit. I don't think I knew what this program stood for until we met Mai. It is about family and that is what Mai is… she is our family.

She is an older sister, daughter, friend. She is someone I can trust with the most valuable things in my life, my children. Mai works hard, she is fun, outgoing, and quite brave! She is living in a totally foreign country, learning and dealing with a culture that is very different from hers. She never complains and always wants to do and be her best.

We joined the program because we needed someone from Japan to continue our youngest daughter's Japanese studies. Mai has done way more than that. She has taught us so much about the Japanese culture. Having Mai in our home has made me a more patient and understanding mother. Mai always has the kids' work prepared and ready for school. She is so organized and puts thought into everything she does.
When I asked our daughters what they loved most they said Mai always has a smile, she is fun, silly, outgoing, willing to try and do anything. My daughter says she always puts us first. I do think that is true. She sacrifices many things to be with the girls on her own time. She is the gold standard of what super means!
Mai was an entrant in this year's Super Au Pair Contest. Read about our Super Au Pair, 1st runner-up, and 2nd runner-up on our blog.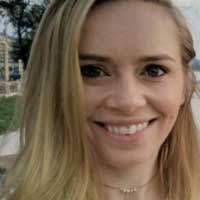 Joy Lo
Joy is a huge advocate for cultural exchange. She's lived across the USA, then moved overseas to London and Sydney. She currently resides in Jakarta, Indonesia, giving her a unique perspective on working and thriving in a culture not her own. Joy graduated from the University of Sydney with a degree in Marketing and started her career in the au pair industry. She works on the blog and social media for the Au Pair USA program.