---
Celebrating Nitta, An Award-Winning Au Pair
---
7 minutes
We are fondly looking back on Nitta C., the 2011 winner of our Au Pair of the Year contest. Nitta, an au pair from Hungary, made a truly special contribution to her host family.
Watch the Video
In Nitta's Host Mom's Words
When I first contacted Au Pair USA, I was struggling. I had a three-year-old (Jake), who has autism, and infant twin boys. Life had dealt me a hand I wasn't sure I could play. With special needs AND twins, it was hard finding reliable people to help.
Nitta was the second person whose portfolio looked promising. When I "met" her via phone and Skype, I was positive I should choose her. I only hoped she would choose us as well. She was bright and enthusiastic and energetic and it didn't hurt that she had spent some time helping her cousin care for infant quintuplets!
When she arrived in September 2010, Nitta immediately won the hearts of our entire family. I expected she would help mostly with the twins, as Jake sometimes has trouble warming up to people. But Nitta came prepared with the toy that was right up his alley: an electronic learning game that is still his favorite. He loves it so much that we use it as a reward for achieving his goals.
In truth, Nitta does care for the babies in every way I had hoped. But where she has far exceeded my expectations is in working with Jake. She took a real interest in him and he has totally bonded with her.
Nitta knew little about autism so she took the initiative to read books about autism and research the latest on autism diagnosis and treatment. She actively participates in Jake's therapy sessions and team meetings, wanting to learn the most effective ways to work with him and help improve his quality of life. In fact, we recently gave her a new role: Jake's aide at school moved away, and Nitta agreed to stay on for a second year to assist Jake in his transition to Kindergarten.
Nitta fits perfectly into our sometimes hectic and crazy household. She is always positive, energetic, highly responsible, reliable, and most importantly, flexible. She always goes above and beyond what is asked of her, pitching in without being asked, and stepping in when we have emergency needs, for example. She gets along well with all of our family and friends. Even the grandparents love her! I could go on and on!
Nitta spends time with the children every day, even on her days off. She helps them make meaningful holiday crafts so they will have gifts for parents and grandparents. Because she cares so much for Jake, she takes him swimming and hiking on her days off and has truly become one of his super-special friends.
We love having her in our family. We always have dinner and share our Hungarian and American cultures, laughing at the differences and the funny situations different languages and cultures can get you into. Sometimes on her days off, she spends time cooking for us and makes some of her favorite, traditional Hungarian meals (Chicken Paprikash is one of our favorites). Nitta and I are both vegetarians, so she makes meatless as well as traditional versions, so that my husband will have a wonderful meal to enjoy.
Having Nitta become such a treasured member of our family is an amazing bonus we did not expect. We often Skype with her parents and have enjoyed visits from her best friend, her sister, and her closest friends. Nitta participates in every important family event whether she is on-duty or off. We have come to love Nitta so much that as we enter into our second year, the idea of not having her in our lives in another year is almost unbearable. There is no doubt in my mind that no matter how far apart we will likely live one day, Nitta (and her family) will be a part of our family for the rest of our lives. We're already planning on a family trip to Hungary after she returns home!
In Nitta's Words
I arrived in September 2010 to Family Esparza. I already had experience with infants, so I did not expect any trouble with the 13-month-old twin boys. It was much more challenging to be prepared for their older brother Jake, who was three years old at that time and has autism. I did my best, read books about autism, and tried to do everything Rebecca suggested to me to make friends with Jake.
Just a couple days after my arriving, I was changing Luke's diaper and ended up changing my t-shirt also! Later that day, Ryan bit me. I have no idea how he did that because he didn't have very many teeth and they were so tiny, but he did. The very next week, all of the three boys got sick with everything you can imagine. Based on Jake's autism, he was having a really hard time telling us his tummy felt sick. Once he suddenly just ran to me and I knew something is going on. I leaned down to help him calm down and that time it wasn't enough to change my T-shirt only!
So I guess I completed the "out of the comfort zone" criteria in my very first two weeks, but I really did not care about these accidents. After a tricky beginning, everything was easy and smooth. They always helped me to fit in.
Rebecca is well prepared and gives me great tips on how to deal with the kids. She keeps the whole household well organized and effective. She has an above-average sense of beauty and can help me if I am in a trouble with my photography assignments. Also, she is vegetarian just like me, so it is just a perfect fit!
Mike helps me to understand American culture, gives me pronunciation and practical English lessons, teaches me the basic rules of football, and always welcomes me if he speaks at the church.
It is impossible to say which kid is the one who is the closest to me. Three different kids with three different personalities and I love all of them the same.
Luke and Ryan are such sweethearts. Ryan loves to be held, and shares love with his shy smile. His twin brother is the opposite. Luke enjoys running and jumping around. He is extremely athletic and open-minded.
Jake is just so special to me. Sometimes I feel I have known him since he was born. It is also fun for me to hang out with him. Because of his autism, things are not as easy as they are with other five-year-olds. We got really close to each other during the previous year. One of the most important times in our schedule comes right after bath. I clap and cheer for him if he reached his daily goals. If that happens, he is the happiest guy and shows how he loves me with huge hugs.
Now I stay with him in Kindergarten during the day like his special shadow and help him to follow the rules and reach his goals. For sure there are lots of things I have to learn, but Rebecca is so kind and helps me with methods I can use to help Jake.
If somebody asks me what am I doing in the USA, I always answer funnily "I am on vacation!" - but it is more than a vacation. I know I play a very important role in the kids' improvement. It is definitely more than having fun with them. I have to be consistent, patient, flexible, and responsible. In the time when I am not with them, I like to learn new songs, search for new games that look enjoyable to Jake that we can play, or just read about how to deal with a kid who has autism.
I know a lot of au pairs who say they have the best host-family, but I know I have the best host family!
InterExchange Staff
InterExchange is proud to have an experienced team that is dedicated to international cultural exchange. We come from a variety of backgrounds, but nearly every member of our New York City-based staff has extensive experience traveling, working, or living abroad.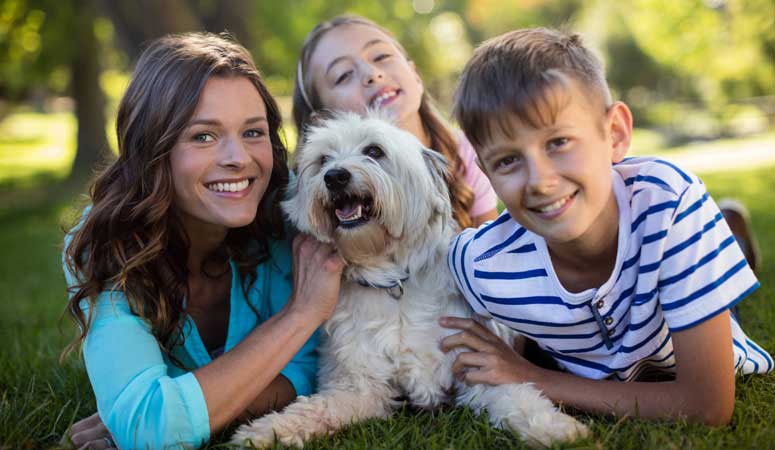 Experience life in the U.S. while living with a welcoming American family.
Sign Up
Learn More
Call Us