International Au Pair Day: Celebrate Your Au Pair
---
We're thrilled to announce International Au Pair Day is happening on November 24th, 2019!
What is International Au Pair Day?
International Au Pair Day (IAPD) is a global celebration of all au pairs and their contribution to cultural exchange around the world. Just like we celebrate mothers, fathers, families, or other special people, we think au pairs deserve to be celebrated too.
It's unbelievable how a stranger from another part of the world can become an indispensable part of your family.
— Host mom Divya in Colorado
International Au Pair Day was created by the International Au Pair Association and will be celebrated by agencies, host families, and au pairs across the world. Through IAPD, we hope to recognize and thank au pairs for all that they do, raise the profile of the au pair program, and unite the au pair community.
🎉 Fun fact: November 24 was chosen as International Au Pair Day because it's the 50th anniversary of the European Agreement on Au Pair Placements, which paved the way for regulated au pair programs worldwide.
How can I celebrate International Au Pair Day?
Host families and au pairs can both participate in IAPD! There are no limits on how you can embrace this day.
Host Families
Think of International Au Pair Day like Mother's or Father's Day, but for your au pair. Your expression of gratitude can include:
Cards or artwork created by your children.
A video message from your kids saying why they love their au pair.
A special family meal at your au pair's favorite restaurant.
Gifts like flowers or a basket of nice soaps and toiletries.
A framed picture of your family with your au pair.

If you don't have a fabulous photo together yet, IAPD is the perfect time to take one!

A fun outing like for mani-pedis.
Extra free time for your au pair on the day.
Au Pairs
Take time to show appreciation for one another by meeting up with your fellow au pairs or giving your peers a shout out on social media using the tags below. You can even embrace some 'me time' by doing your favorite relaxing activity while reflecting on your journey as an au pair.
How can I stay connected and spread the word?
We want to see your International Au Pair Day celebration!
Want to learn even more about International Au Pair Day? Check out the official website.
See you on November 24th!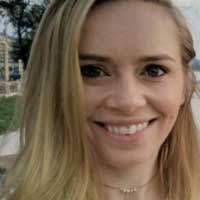 Joy Lo
Joy is a huge advocate for cultural exchange. She's lived across the U.S. and various countries around the world including the UK, Australia and Indonesia. She has a unique perspective on working and thriving in other cultures. She's been a contributing author on Au Pair USA program.