---
Memories That Mean the World: First Steps
---
5 minutes
At InterExchange Au Pair USA, we're celebrating our 25th anniversary this year by sharing  Memories That Mean the World. What's a Memory That Means the World? For us, it's the type of memory that only happens through cultural exchange, when young au pairs from around the world make unforgettable connections with the U.S. host families that welcome them.
This month's Memory That Means the World comes from Haruna, from Japan, and her host family, the Stoy-Celano family.
As a new parent, Katherine Stoy often received the well-meaning advice to "wait until she's old enough to remember," when considering doing special things with her new baby.
However, she noted that "sometimes it becomes an excuse for not doing something memorable with a very young child," and didn't want to make an excuse for missing out on the experience of hosting an au pair.
Reflecting on her daughter's early life with Haruna, she said, "I've watched our little girl grow and learn along with our family, I can't help but think about how these early experiences with people who love her and care for her will be with her for the rest of her life."
Not waiting to host an au pair turned out to be the perfect decision for the Stoy-Celano family.
In fact, Katherine met Haruna, who was still on her first year of the program, before Katherine the baby even arrived on the scene. Haruna referred the Stoy-Celano family to the program, and then matched with them for her extension year.
"We were looking for someone who loves learning to help our new little girl discover her place in the world. I was already worried about what it would be like to leave a tiny baby behind and go off to work all day, but the first time I met Haruna I knew she'd be the right person to take care of our little girl," said Katherine.
The meeting put both at ease in short order, even though they were both nervous at the start, and had a little mix-up about locations.
"I felt like I was meeting a friend – someone I could trust with my hopes and fears, and most importantly, our little girl's care," said Katherine. "[Haruna] was funny, kind, asked good questions, and showed an excitement and enthusiasm about discovering new things that I hope my daughter will pick up on. She was also patient and understanding, as I found out when I was late to our meeting because my pregnant brain had made me think we were meeting at a different coffee shop!!"
Katherine was able to stay home for the first couple of months after giving birth to a healthy daughter. When she had to go back to work, she was naturally sad to leave her baby's side. But by this time, the family had begun their year with Haruna, so she was there to help.
"I felt sad, of course, and a little lonely, even jealous, but never worried," said Katherine. "Haruna was truly a member of our family, and I knew she cared so much about our little girl that she couldn't help but do her best to make her feel happy and loved. Not only was Haruna sensitive to my daughter's needs, but also to mine as a mother missing her new baby. She helps our little girl wave goodbye to us every morning, and welcome us home every evening. I always look forward to dinners together, where she tells us all about our baby's day, and it's almost as if we were there together."
Haruna also took extra steps to help share special moments.
"Even when Haruna's the one who gets to see a precious first, I feel like it's something we're lucky to share, and not something I've missed out on," said Katherine. "Haruna sent me a video in the middle of a tough day at work. I could see our daughter pull herself up to standing on her wobbly little legs, hear her proud squeals as she realized what she'd done, and see Haruna's careful hand just an inch away, making sure she wouldn't fall. It brought tears to my eyes, and I can't count how many times I watched it, over and over, happy that Haruna had been so thoughtful as to capture and share that moment with me."
While some of these special moments won't always stick in a child's mind, the rest of the family – including Haruna – will never forget their time together.
"Years from now, our little girl won't be able to tell us about all the times Haruna was there to snuggle her, rock her to sleep, read her a story, and catch her when she was about to fall. If you ask, 'Do you remember how the three of us gave you a round of applause the first time you clapped your little hands?' she'll have to shake her head. She might not remember, but for my husband and I, Haruna will always be such an important part of every precious memory from our daughter's first year of life," said Katherine. "I hope that Haruna, too, will always treasure her memories of this year – not only of the time spent with our family, but the friends she met through the au pair program and her community college classes, and the journeys she took all over the U.S. both with us and on her time off. Most importantly, a big part of the confident, happy and energetic little explorer our little girl has become comes from spending her early days in a home filled with laughter and love."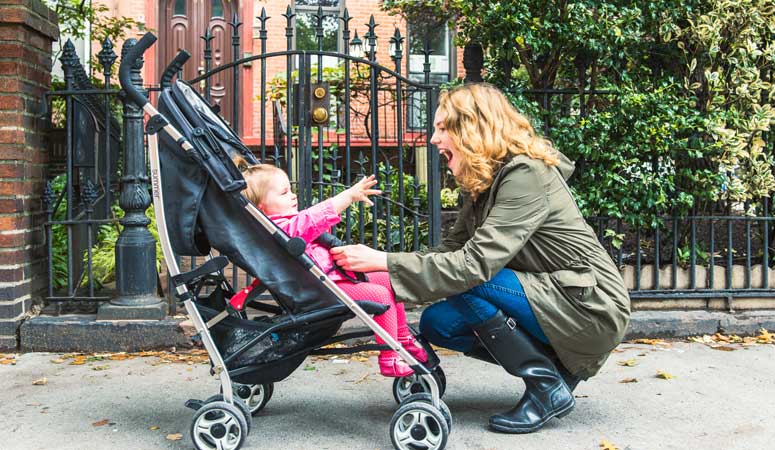 Childcare you trust and your kids love
Sign Up
Learn More
Call Us