Au pair Liliana from France has so many hidden superpowers, including the ability to speak four languages! Little did she know, she'd be able to use that superpower as an au pair in Albany, New York.
When Liliana first signed up to be an au pair, she thought she'd live with a typical American family. The universe had other plans and she found her perfect match in the D'Cruz Khavidi family. Host mom Shadi is an Iranian-American from Texas and host dad Jason is Goan (Indian)-Canadian and is a francophone. English, Portuguese, and French are spoken in the home and her adorable host kids Cyrus (age 5) and Sara-Simone (age 16 months) love to practice their French with Liliana!
A typical day for Liliana, Cyrus, and Sara-Simone may consist of making crepes, building Lego sculptures, and singing French songs as they dance around the house. Host mom Shadi loves having Liliana as part of the team, sharing, "For us as parents, seeing our children thriving, confident, and comfortable is a true gift. We both have very busy work schedules and having someone valuable on our team is valuable to us."
Liliana has seamlessly integrated herself into the D'Cruz Khavidis' extended family, speaking Portuguese with her host dad's parents and sharing frequent photos and updates of the kids in the family online chat. She was even able to capture Cyrus' handstands and Sara-Simone's signs of walking and share them with the grandparents!
After Liliana's au pair year, her dreams won't slow down. "My aspiration is to be a flight attendant and in the travel industry. I have learned that having a cultural awareness is very important in our times. Empathy is something that I believe to be an important quality and I experience this on a daily basis, not only because I have to be empathetic to the children but also I found others to be empathic to me since I am new to the USA."
Thank you, Liliana and the D'Cruz Khavidi family for sharing your cultures with one another, and with us.
Check out Liliana's Super Au Pair entry below, and watch her Super Au Pair video submission!
Excerpt from Liliana's Super Au Pair Story
"I moved to Albany, New York in June from a suburb 20 minutes outside of Paris, France. I was excited to have the opportunity to be in the United States and to be working closely with a family. Despite my excitement and anticipation, it was a big change for me. I had never been out of Europe except for a recent trip to the Dominican Republic.
While I had many conversations with my future host family on Facetime and email prior to my arrival, the actuality of moving to Albany sank in a few days after I arrived. Some initial challenges like food and communication required special attention. We were able to overcome that through patience, special discussions, and an open mind. I now have adapted to what life is like with my host family.
There are many different things to think about with two children especially since Cyrus is 5-years-old and Sara-Simone is 16 months. Their needs and goals are very different, but I try to balance the two together. For example when Sara-Simone naps, I know I have a set time to work only with Cyrus. We do things like practice his letters, work on Legos, or draw. One successful activity we have done together from the beginning was making crêpes. I have now made more crêpes in Albany than I have ever made in France! I first made it because I was homesick for France. But now it is an opportunity to share my culture.
My aspiration is to be a flight attendant and in the travel industry. The expectations of being able to communicate effectively are a large part of the job. Improving my English and living in the United States was an original goal I had when I applied to the program, but I know I have made a strong connection with my host family. I am normally a shy person but because I am in a new place I have made an effort to integrate into the community and have made my own lasting friendships."
The D'Cruz Khavidis' Super Au Pair Story
"Having an au pair was a new concept to us. We originally considered having an au pair because we did not want Cyrus to lose his French from the year we had spent in Montreal. Since Liliana's arrival, Cyrus' French has improved. Simultaneously, Liliana has exceeded our expectations as to what we thought an au pair would be.
She is open-minded, punctual, communicative, and truly fun. Our children, Cyrus and Sara-Simone, both light up when they see her. She makes a very special effort to plan her days with the children based on the weather or special activities she knows about. She echoes our desires for the children and is able to add her own insight and method to their activities. We believe that she is truly part of our team with similar goals and aspirations in mind for our children.
It is hard to imagine but she really has only been with us for four months and she has woven herself into our lives. She shares unique things about her family and her culture. I know she misses her family but since she has been here, she has really actively made an effort to embrace life outside of her comfort zone and embraced her role in our family."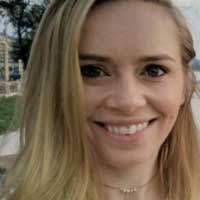 Joy Lo
Joy is a huge advocate for cultural exchange. She's lived across the USA, then moved overseas to London and Sydney. She currently resides in Jakarta, Indonesia, giving her a unique perspective on working and thriving in a culture not her own. Joy graduated from the University of Sydney with a degree in Marketing and started her career in the au pair industry. She works on the blog and social media for the Au Pair USA program.