---
4x4 Camp: The Best Way to Prepare for Camp USA in Bolivia!
---
3 minutes
Ciudad Mundo, our international partner in Bolivia who recruits for our Camp USA programs, truly goes above and beyond when it comes to preparing participants for working at a summer camp in the U.S.
"4x4 Camp" is a 3-day orientation hosted by Ciudad Mundo and led by former Camp USA participants in which new participants learn about American culture, what to expect at camp in the U.S., the unique challenges of working at special needs camps, first aid training and more—all while getting to know new people and playing fun, silly games in the spirit of camp.
Wendy Meruvia, co-founder of Ciudad Mundo, tells us that "all participantes fly to camp from different cities. We promote teamwork and cultural understanding, and leadership with a special focus on taking the challenge and overcoming cultural and language barriers."
Because the leaders at 4x4 are former participants, Wendy says that attendees are learning from the best: "All camp 'teamers' are former participants…So this camp is an opportunity for ex-participants to lead and practice their skills from their experience and no one better than them to do so."
Attendees of Camp 4x4 had nothing but rave reviews. Carolina T. from Cochabamaba, Bolivia writes:
4x4 camp was one of the most amazing experiences I've ever had. I had heard about this camp before because of ex-participants stories but nothing compares to the idea of living the experience yourself! All the orientations, training, laughter, preparation and joy, but above all I can truly say that a team-work spirit was present in this camp. The most beautiful thing was the joy of sharing and meeting wonderful people that in such a short time became like family to me. I want to thank God because this camp helped me discover all my abilities and learn to believe in myself, but above all to understand that I must never give up.
Stephany M. from La Paz feels mores prepared to work with special needs campers in a new country:
I'm very happy and excited to participate in a summer camp in USA. It is the first time I'll work with special needs people in another country. It will be a great experience to grow as a person and learn about the culture. The preparation work and guidance that Ciudad Mundo Foundation makes is awesome! I'm really grateful to Ciudad Mundo for the activities they perform to prepare our 4x4 camp, the teamwork is really important. I made new friends and I learned about American culture and I think I'm ready for this new experience.
Luis N., also from La Paz, learned that summer camp is all about giving your all:
No words to describe the 4x4 camp! There I realized that I can teach as much as I can learn. The only thing I need to make this summer the best of my life is to give all my heart and my soul. To see all my campers enjoy the summer as much as they can is my biggest purpose. It will be the best summer because Ciudad Mundo prepared me for that and much more!
We at InterExchange are grateful to have a partner like Ciudad Mundo! "I am thrilled to see this type of program being offered in Bolivia by Ciudad Mundo, we're lucky to have them on our program and our camps are lucky to have them on staff," said Christian Smith, InterExchange Camp USA Program Manager.
Ani Kington
Originally from Columbus, Ohio, Ani is a fan of exploring new places through photography and the local cuisine. After earning her BFA in photography from NYU and gaining communications experience at International Planned Parenthood Federation, she joined InterExchange in 2012, and worked as the Marketing Producer until 2016.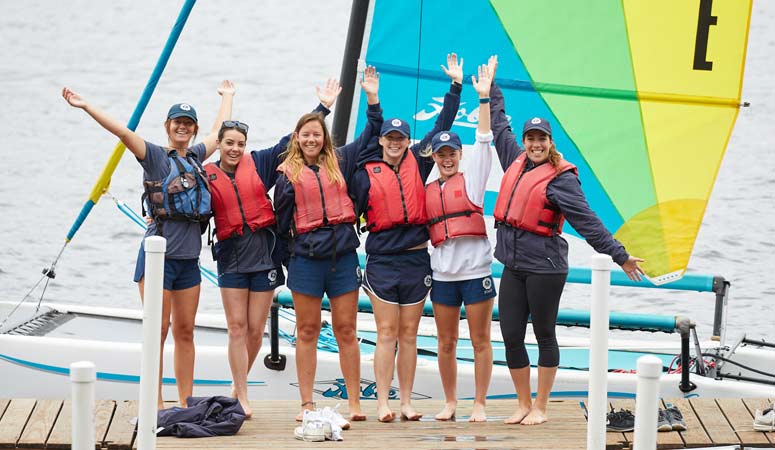 Work with kids and enjoy the American outdoors at camp.
Sign Up
Learn More
Call Us