---
The Best Summer Ever: My Time at Kutsher's Sports Academy
---
3 minutes
Kutsher's Sports Academy: An Awesome Camp Experience
I have just had the best summer ever! The whole camp experience was awesome and I loved it! It was a nice change of pace from what I am used to in the architecture industry. The people at Kutsher's Sports Academy, especially the coaches, were fantastic. There were some highly skilled and qualified coaches there. I especially learnt a lot from the golf coach, Tom, whom I got along with really well. I was so impressed with his level of knowledge and the way in which he ran the sessions.
Golfing in the Dominican Republic
I also had the opportunity to go on a trip to the Dominican Republic with the senior campers! We went to a resort called Casa De Campo, and the whole trip was unreal! It was the most amazing place I have been to - it blew my mind the whole week we were there.
There are some golf courses on the resort. One of them, Teeth of the Dog, is ranked the number one golf course in Latin America and is considered to be one of the top 50 courses in the world! It sure didn't disappoint and the views were just breathtaking!
Travel Around the United States: Chicago and New York
After camp finished, I went to Chicago for a week. What an awesome city! From an architecture perspective, I was highly impressed with what I saw!
I came back to New York and went to The Barclays, the first tournament of the FedEx Cup Playoff events for the PGA Tour. It was played at Bethpage Black, and that course is tough! It was quite exhausting walking around the golf course too. I often fell asleep on the train ride back to the city!
After that, my mum came over and I showed her the sights and sounds of New York. We went to the US Open Tennis Championships for a few days. They did a great job upgrading that facility over the last year and the roof over Arthur Ashe was awesome!
Back in New Zealand and Reflecting on an Unforgettable Summer
I have now returned to New Zealand and it has been great to see the rest of the family. I am enjoying some downtime with them before starting work at the architecture firm where I was previously employed. All in all, it was one unforgettable summer!
Matt Reid
Matt Reid participated in InterExchange's Camp USA program at

Wednesday September 21, 2016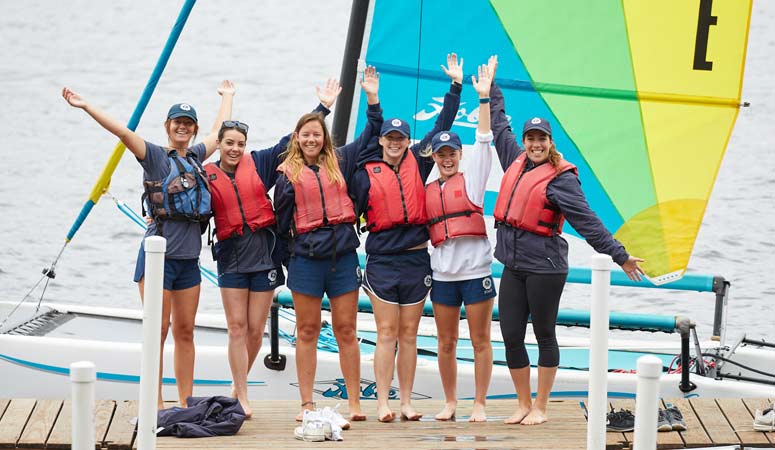 Work with kids and enjoy the American outdoors at camp.
Sign Up
Learn More
Call Us