---
Ways to Share Your Culture at Camp!
---
2 minutes
Settling into your counselor role is very exciting – you're experiencing the American outdoors, making friends with the staff, and of course, bonding with your campers! As an international counselor, your campers and fellow staff would love to learn about you and your culture. You may be the first person they've met from another country!
A great way to get a conversation going amongst the cabin and around camp is to share your culture! They are very curious about you and where you come from, so be proud of your home country and show your campers a bit of the world!
Here are some easy ways to share your culture at camp!
1. Teach them some slang, (or a phrase in your native language!)
Tell your campers to grab their jandals for the lake, bring a jumper at night or to throw their rubbish away! They'll love it! Keep the conversation going by asking them to teach you some American slang!
2. Bring a souvenir from home and share it with the cabin!
Cabins can bond by talking about their background or their life at home. Campers may bring something from home and explain its significance to the cabin. You can do the same as a counselor! Bring anything, a special article of clothing, a flag, a snack from back home. It's all new to them, you have lots to teach them!
3. Talk about your favorite tradition from back home.
You probably don't realize how interesting your traditions can be to your American counterparts. Sunday Roast, Boxing Day, Camogie? These may seem like ordinary events to you, but to an American, it's a eye opening discovery!
Camp is the perfect place to experience a new culture and to learn new things about the world. As an international counselor, you can bring something new to camp while representing your home country.
Wanna learn more about the Magic of #camplife? Start an application or contact us now!
Rebecca Cohen
Rebecca joined InterExchange in January 2017 working with the Work & Travel USA program, helping international students work seasonal jobs around the United States. Having lived and worked abroad herself in France and Israel, Rebecca is enthusiastic about helping international students fulfill their dreams of cultural immersion. She is thrilled to continue working at InterExchange with Camp USA to make the program a success.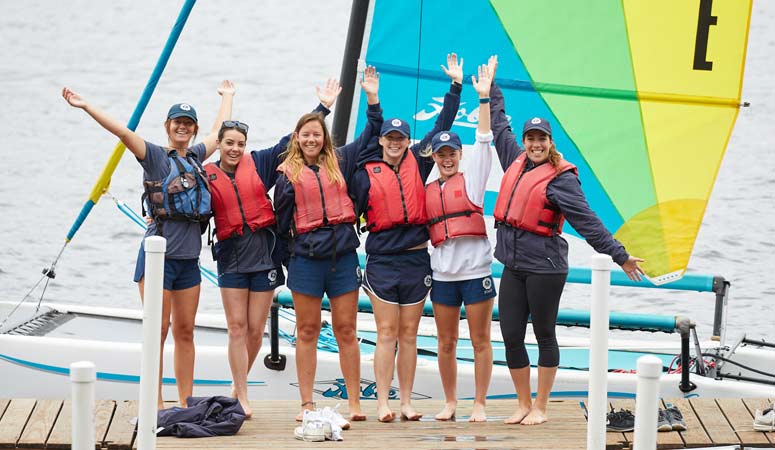 Work with kids and enjoy the American outdoors at camp.
Sign Up
Learn More
Call Us