---
Fun Ways to Keep Your Camp Staff Happy and Motivated
---
1 minute
Working at summer camp can be a fun and rewarding experience, but it is still work! Camp USA participants look forward to a summer in the United States and working with kids, but it's important to provide a great employee atmosphere for counselors and support staff to make sure everyone has the best experience possible,
Here are some tips for keeping staff happy and motivated when working at an American summer camp.
Trips
Offer fun trips or excursions for counselors and support staff during the summer or at the end of camp. These breaks allow staff to relax and have some fun, but they are also an excellent opportunity to present activities to international staff looking to learn about U.S. culture. Go to a baseball game, have a movie night, throw a barbecue outside or take a trip to street festival in town and show off the best parts of your local community.
Recognition
Assign "Employee of the Week" or "Camp Leader of the Month" to your top staff members. This can be appointed by a manager or by fellow staff members, and will help motivate your summer camp staff. You could also offer bonuses to exceptional staff at the end of the summer season.
Events
Campers love fun events over the summer, but so do the staff! Plan a big event for either the entire camp or just the staff to celebrate a great summer and all the new friendships made during the camp season. Some fun ideas include a scavenger hunt, barbecue, sports night or a costume party!
Internet
If possible, offer Internet access at camp and allow staff to use the web to stay in touch with friends and family. Maintain restrictions on the Internet, but allow staff to use it during designated times or days of the week.
Ani Kington
Originally from Columbus, Ohio, Ani is a fan of exploring new places through photography and the local cuisine. After earning her BFA in photography from NYU and gaining communications experience at International Planned Parenthood Federation, she joined InterExchange in 2012, and worked as the Marketing Producer until 2016.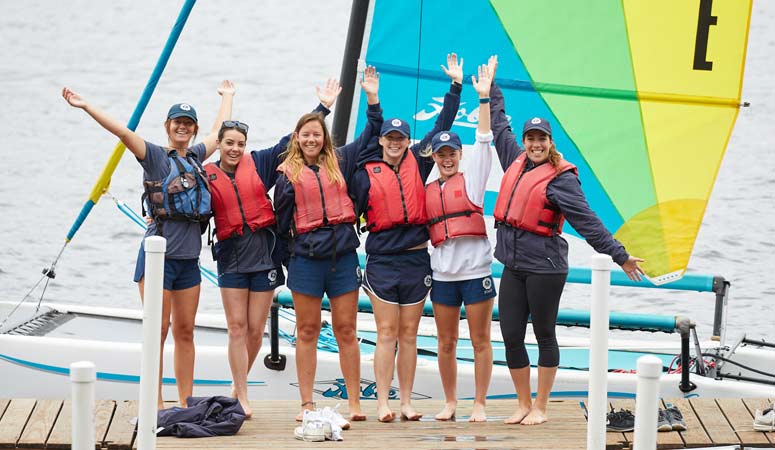 Work with kids and enjoy the American outdoors at camp.
Sign Up
Learn More
Call Us