---
Reflecting on Your Camp USA Experience
---
2 minutes
Summer is coming to an end, and most U.S. summer camps are winding down for the year. For Camp USA participants, this means it's time to start your month-long travel period, or for some, return home. But before you set off on your next adventure, whether it's traveling to the Grand Canyon or starting your next year at university, it's important to take some time and reflect on your experience as a Camp USA participant! Here are a few ways to process and remember your summer in the USA:
1. Journal: Ideally, you've kept some sort of a journal throughout the camp season, but if not, it's not too late! Make notes about major events and memories that happened throughout the summer, reflect on how you've grown or changed, and compare how you felt at the beginning of the season to how you feel now. By writing things down when they're fresh in your mind, it will be easier to remember the summer just by reading over your journal in the years to come.
2. Scrapbook: Do most of your photos, videos and memories from summer exist only digitally? It can be easy to forget about photos if they're just on your phone, camera memory card, or Facebook. Take time to print them out! Make a scrapbook full of photos, notes, and any memorabilia from your camp to help you remember the experience. The book will be something you can keep forever and can share with friends and family.
3. Create a "camp yearbook": There are many ways to do this, but the idea is that you collaborate with your fellow camp counselors and staff to remember the summer. One way is to have each person create one page. Your page could be a drawing of your favorite moment at camp, a list of your favorite memories, or a selection of photos. Then, each person makes a photocopy of their page for every other person in the group. In the end, each person will have a page from every other person— and a book full of memories!
4. Keep in touch! A great way to continue to remember and reflect on your time in the U.S. is to keep in touch with the people you met! Make sure to exchange email addresses or add new friends on Facebook. Keep in touch with InterExchange, too! Like us on Facebook and follow us on Twitter.
As you look through your photos and videos from summer, don't forget to submit to the InterExchange Camp USA 2013 Photo & Video Contest! 1st place prize is a $50 Visa gift card, and 2nd place wins a $25 gift card. The deadline is August 28th, so hurry and submit your best shots from camp!
Ani Kington
Originally from Columbus, Ohio, Ani is a fan of exploring new places through photography and the local cuisine. After earning her BFA in photography from NYU and gaining communications experience at International Planned Parenthood Federation, she joined InterExchange in 2012, and worked as the Marketing Producer until 2016.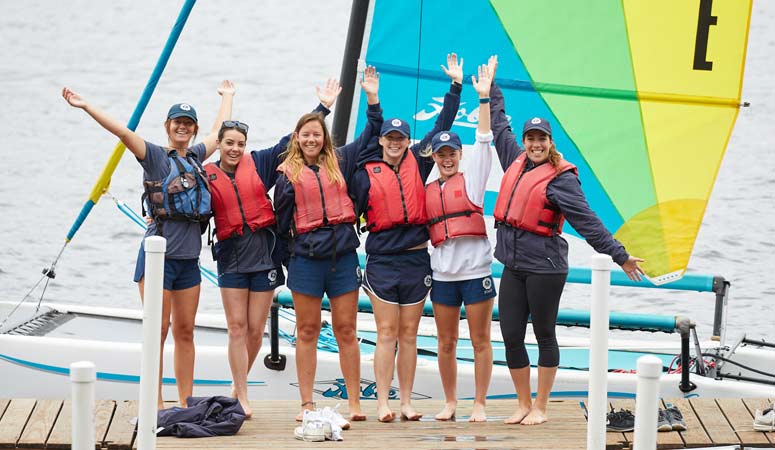 Work with kids and enjoy the American outdoors at camp.
Sign Up
Learn More
Call Us