---
Benefits of Hiring Camp Staff Early
---
1 minute
With winter on the doorstep, summer may seem like a long way off, but it's not too early to start planning for summer camp staff! InterExchange Camp USA has already secured spots for some candidates for summer 2014, and we're ready to help you with your own international staff!
Adding enthusiastic and motivated international participants will not only add energy and new perspectives to your camp staff, but it also allows the campers to experience new cultures and languages during the summer season! We place international J-1 staff from all over the world, so get your camp staff ready early and ensure that you get the right candidates for your needs.
If you're in need of camp staff with specialized skills, start hiring early. We recruit and sponsor staff with all types of skills – from arts and crafts to waterskiing to food service and maintenance – and we have experience working with all types of camps, including day camps, religious camps and many more.
International camp counselors and support staff are excited about participating in the Camp USA cultural exchange program and experiencing life in the United States for 8 to 15 weeks. Our qualified and pre-screened candidates are motivated and ready to be matched with the right camp based on personality, skills and other important factors in the matching process.
Our experienced Camp USA team is ready to help you hire summer camp staff – contact us today. Registration is free!
Ani Kington
Originally from Columbus, Ohio, Ani is a fan of exploring new places through photography and the local cuisine. After earning her BFA in photography from NYU and gaining communications experience at International Planned Parenthood Federation, she joined InterExchange in 2012, and worked as the Marketing Producer until 2016.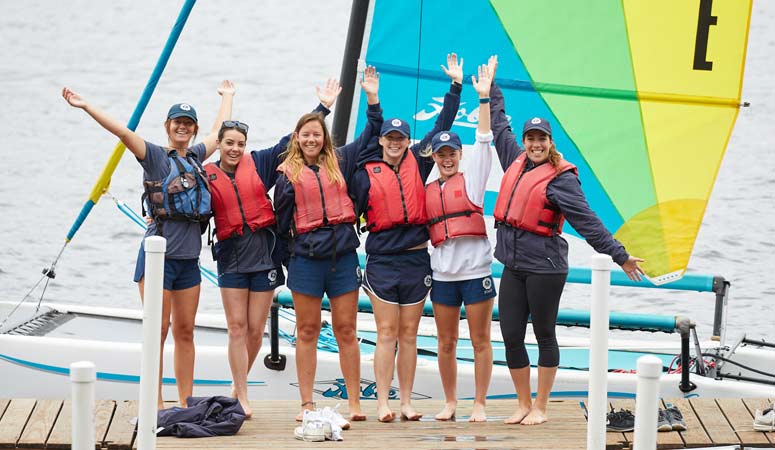 Work with kids and enjoy the American outdoors at camp.
Sign Up
Learn More
Call Us