---
What Kind of Summer Camp Jobs Are Available in the USA?
---
2 minutes
InterExchange places participants in a variety of jobs at many different 
types of camps
. Here's an overview of the types of jobs available and a description of typical duties for each!
Counselor
General Counselor:
As a general counselor, you'll be assigned to a group of campers, and you'll be more directly involved with them than anyone else. You'll sleep in the same area, eat at the same table and go almost everywhere together. You'll have a lot of responsibility, and for the summer, you become a teacher, and role model for your campers. You'll have the opportunity to make a big impact on your campers' lives. As a general counselor, you will participate or lead a variety of activities.
Activity Counselor:
Activity counselors are responsible for planning, organizing and teaching one or more specific activity area - such as swimming, art, tennis and many other activites. You can expect to teach large groups of children throughout the summer. Usually, you'll spend most of your time teaching your specialty to different children from various age groups. In some camps, you may work only as an activity counselor. In others, you might have general counselor responsibilities part of the time and work as an activity counselor during other times.
Special Needs Counselor:
Special needs counselors work with campers of various ages who have a wide variety of disabilities.
As a special needs counselor, you may need to help bathe or lift campers. If you have experience working with people with special needs, that's great. However, previous experience isn't required, as long as you are patient, energetic, have a respectful attitude toward people with disabilities and are open to a challenging but also incredibly rewarding experience.
Support Staff:
Support staff are responsible for the behind-the-scenes work that keeps camp running. In some camps, you may only do one job all summer and in others, you may rotate jobs throughout the week. Support staff jobs require long hours of physical labor, but you'll receive a slightly higher stipend than counselors. Specific jobs include:
Driver: You may need to drive during the day or evening, lift heavy things into the camp truck and read maps. To be a driver, you'll need an international driver's license, and you should be very familiar with American road and highway signs.
Housekeeper: You will vacuum or sweep, tidy up bunks or cabins, clean toilets and keep the rest of camp generally neat.
Kitchen Staff: This is the most common support staff job. You will wash dishes, prepare food, clean tables and floors, set up the dining room and take out the garbage.
Laundry Staff: You will collect, wash, dry and fold clothes.
Maintenance Staff: You may be responsible for carpentry, electrical work, plumbing, mowing lawns, cleaning pools, painting or any other job needed to make sure camp looks nice and runs well.
Office Workers: Working in the main office, you will answer phones, work with computers, and do other general office tasks. Strong English skills are very important to these positions.
* you may be placed in one position or rotate through a variety of jobs and tasks.
Start the application process.
Already have a job? Learn about the Self Placement Program.
Ani Kington
Originally from Columbus, Ohio, Ani is a fan of exploring new places through photography and the local cuisine. After earning her BFA in photography from NYU and gaining communications experience at International Planned Parenthood Federation, she joined InterExchange in 2012, and worked as the Marketing Producer until 2016.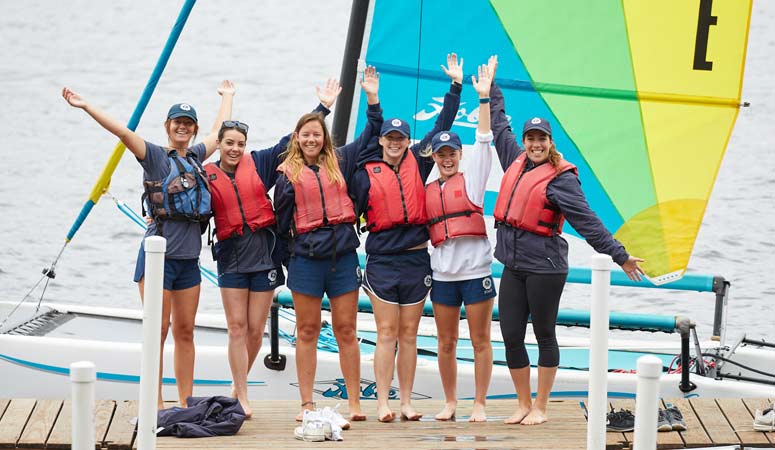 Work with kids and enjoy the American outdoors at camp.
Sign Up
Learn More
Call Us