---
5 Benefits of Cultural Exchange for International Camp Staff
---
2 minutes
Their cultural exchange experience will also bring benefits after returning to their home country. In return, Americans learn from international visitors and gain a mutual respect and understanding for new cultures.
Here are some examples of how international visitors benefit from cultural exchange programs in the United States:
Learn About U.S. Culture: Working and interacting with Americans allows international staff to not only build personal relationships, but also to learn about U.S. culture from a local perspective. After working at a camp, participants have the chance to travel around the U.S. for up to 30 days! Check out our guide to local culture in the United States to see what you can do in any part of the U.S.
Cross-cultural Skills in a Globalized World: Companies in all types of industries work with international partners and clients. We're also seeing more diverse workplaces with people from many types of cultures working together. The Camp USA program allows visitors to make new friendships and relationships, and to learn how to talk and interact with people from other cultures.
Work in New Environments: Working and living in a new country and within an unfamiliar culture provides a great experience for young international visitors. Cultural exchange often involves adapting and learning about a new environment, and this flexibility is a helpful skill for our participants before, during and after the Camp USA program!
Continued Connections to the U.S.: Our camp directors and hosts act as cultural ambassadors to our participants, introducing international visitors to U.S. culture during their time as J-1 participants. After experiencing life in the United States, international participants are usually more likely to return to the U.S., to stay in touch with new friends, and to use their English skills in future jobs.
Make New Friends: One of the best features of cultural exchange programs it the chance to make new friends for a lifetime! Whether you are working side by side at camp or meeting a new friend while traveling the United States, a cultural exchange program allows international students to make lifelong friendships.
If you have any questions about the Camp USA program, contact our team today! Email campusa@interexchange.org or call +1.212.924.0446.
Ani Kington
Originally from Columbus, Ohio, Ani is a fan of exploring new places through photography and the local cuisine. After earning her BFA in photography from NYU and gaining communications experience at International Planned Parenthood Federation, she joined InterExchange in 2012, and worked as the Marketing Producer until 2016.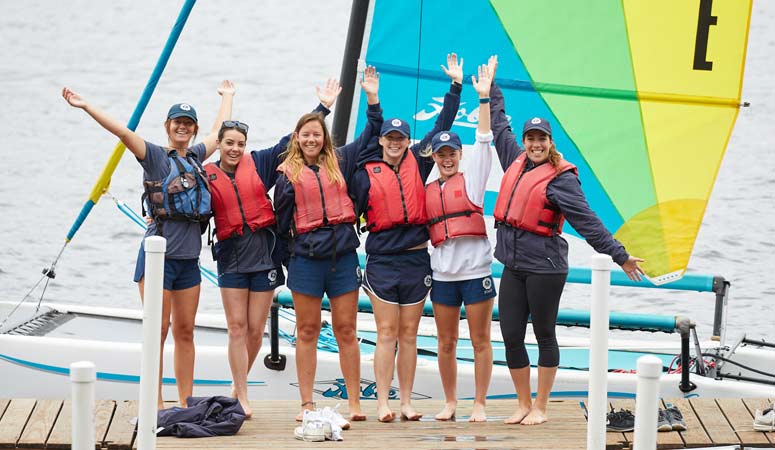 Work with kids and enjoy the American outdoors at camp.
Sign Up
Learn More
Call Us