---
Social Media and Your Camp Staff
---
1 minute
using social media networks like Facebook or Twitter.
Welcome new staff. Post a fun welcoming message to new staff and encourage them to ask questions or just say hello and introduce themselves! Your staff can start connecting before they even arrive at camp.
Announce important news and updates. Use social media to keep staff up to date on important news and events.
Share staff stories, like "Counselor of the Week". One great way to keep staff motivated is to offer recognition or even prizes to the top camp staff each week or month.
Stay in touch with former staff. Social media allows international camp staff to stay in touch with new friends. Encourage everyone to post photos and share their favorite memories from summer camp.
Safety on the Web
It's important to be safe on the Internet, so consider creating a closed Facebook group for camp staff for privacy reasons. It's also important to set boundaries and guidelines for camp staff using social networks. For example, you may need to create rules about posting any photos that include young campers. If you're organization has its own social media policy, be sure to share it with staff as soon as possible.
And don't forget to follow InterExchange Camp USA on our social networks! Like us on Facebook or follow us on Twitter @IEXCampUSA.
Ani Kington
Originally from Columbus, Ohio, Ani is a fan of exploring new places through photography and the local cuisine. After earning her BFA in photography from NYU and gaining communications experience at International Planned Parenthood Federation, she joined InterExchange in 2012, and worked as the Marketing Producer until 2016.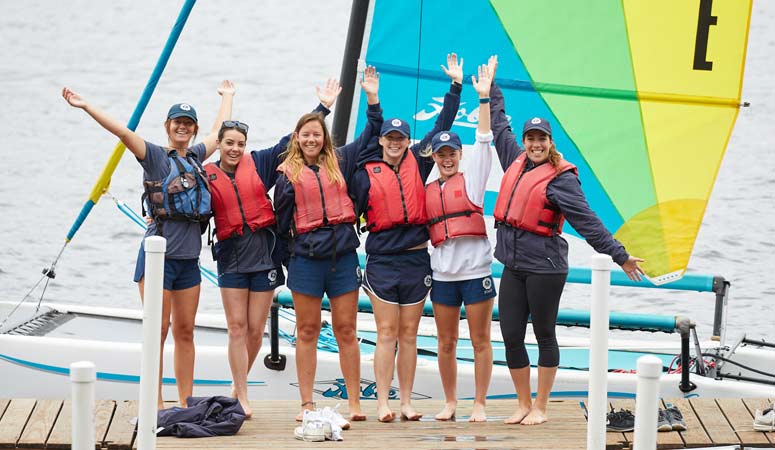 Work with kids and enjoy the American outdoors at camp.
Sign Up
Learn More
Call Us