---
Summer Camp Staff Can Encourage Children to Develop a Lifelong Love of Books
---
2 minutes
Summer camp is a rite of passage for many American children and can be a great way for kids to learn new skills, from fishing and building a campfire to swimming or playing a musical instrument. Today, summer camps can also help advance children's literacy through reading programs that help children develop a lifelong love of reading and books.
Many organizations actively participate in summer camp reading programs. The American Camp Association operates an annual initiative that aims to get kids excited about reading books. Children participating in the program are challenged to read for up to 30 minutes per day in order to keep their reading skills sharp over the summer.
In addition to being a great way to spend time on relaxed nights at camp, reading throughout the summer can benefit children's academic growth tremendously. According to Scholastic, kids who actively read books learn between 4,000 and 12,000 more words per year than those who don't, and 91 percent of children who choose their own books were more likely to finish them. The importance of literacy has become a focus of the Obama Administration's education reforms, and summer camp staff are uniquely positioned to help students advance their reading skills during summer vacation.
There are lots of ways for people taking summer camp jobs to get creative when it comes to incorporating reading into their programs. For example, after a long day of swimming or hiking, summer camp staff can organize ghost storytelling contests around the campfire. Each child can select his or her favorite scary story, and read it aloud to the other kids. Not only is this a fun and interesting way to encourage children to read, it also introduces them to storytelling in general, which can be important for young kids' intellectual development.
Playing games is also a fun way for summer camp staff to introduce children to the concept of narrative. Before heading out on a trek through the woods, camp leaders can encourage children to visualize themselves as characters from a popular book or to recreate events from a story. These techniques not only encourage children to think about and read books, but also give their imaginations a workout.
While summer camp has long been known as a time for children to make new friends, learn valuable life skills, and foster appreciation for nature, it can also be a time to develop a lifelong love of books, especially with encouragement from enthusiastic camp staff.
Ani Kington
Originally from Columbus, Ohio, Ani is a fan of exploring new places through photography and the local cuisine. After earning her BFA in photography from NYU and gaining communications experience at International Planned Parenthood Federation, she joined InterExchange in 2012, and worked as the Marketing Producer until 2016.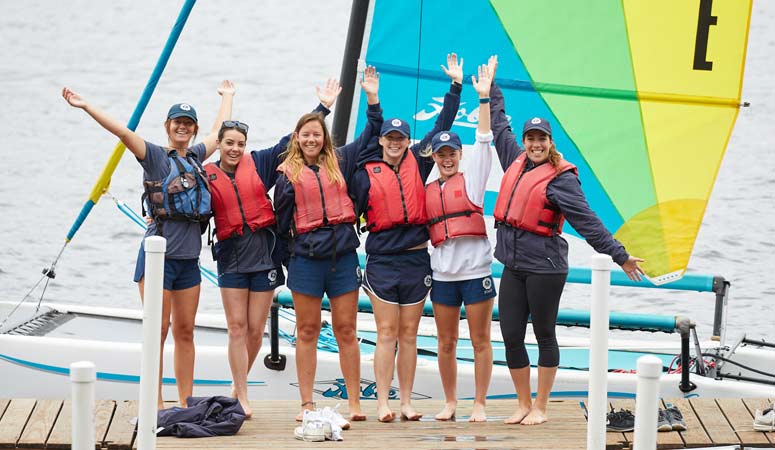 Work with kids and enjoy the American outdoors at camp.
Sign Up
Learn More
Call Us