---
Consider This Before Planning Your Outdoor Activities at Camp
---
1 minute
Taking a summer camp job can be one of the most exciting and memorable ways to spend the summer. From meeting other enthusiastic individuals to seeing children experience the great outdoors, working as summer camp staff can be incredibly rewarding. It is also a position with a great deal of responsibility, and individuals planning camp activities should follow these tips so everyone can enjoy a safe, happy summer.
Different Ages, Different Limitations
Some individuals working as summer camp staff may find themselves dealing with specific age groups, while others might be supervising children of various ages. Either way, camp leaders should plan activities and games accordingly.
For example, younger children cannot exert themselves for as long as older kids. As such, scheduling a 2-mile hike for smaller children would be unwise. When organizing things to do, summer camp staff should bear in mind the age of the kids. Likewise, when organizing activities for older children, camp leaders should adjust their plans to make sure kids do not get bored.
Safety First
Planning suitable activities for kids at camp is about more than just engaging the young ones. Safety should be the top priority of summer camp staff. According to Happy Living magazine, younger kids can drown in just one inch of water, so camp leaders should keep this in mind when coming up with activities.
Similarly, younger children cannot metabolize water as effectively as older kids, so summer camp staff should minimize the amount of time that small children are exposed to the sun to avoid dehydration. WebMD says that small children are much more susceptible to dehydration than older individuals, so camp leaders should plan and prepare for activities accordingly.
Summer camp staff should always consult their camp directors to ensure they're following their camps' procedures, but paying extra attention to safety and understanding how to cater to different groups can ensure smoother, happier group activities during the summer.
Ani Kington
Originally from Columbus, Ohio, Ani is a fan of exploring new places through photography and the local cuisine. After earning her BFA in photography from NYU and gaining communications experience at International Planned Parenthood Federation, she joined InterExchange in 2012, and worked as the Marketing Producer until 2016.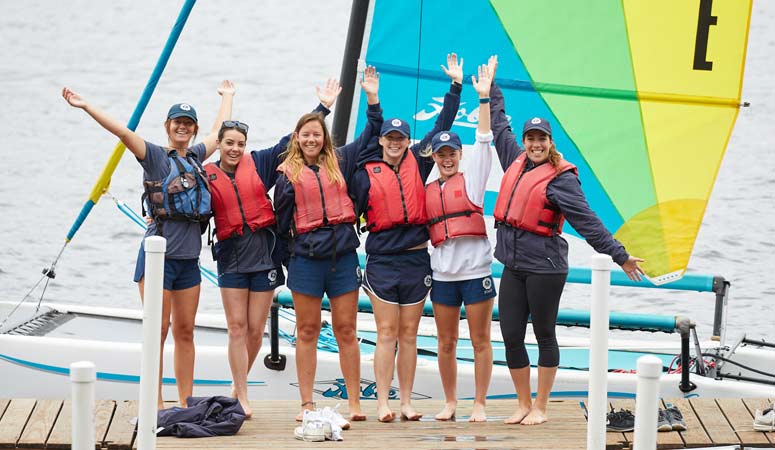 Work with kids and enjoy the American outdoors at camp.
Sign Up
Learn More
Call Us