---
Tips for Summer Camp Staff to Engage Reluctant Kids
---
2 minutes
Most kids love summer camp. Pitching tents, building fires and hiking through the forest can all be fun and exciting activities for children, especially if it is their first time. However, summer camp staff and counselors might find that some kids are more reluctant to participate than others. Camp staff can follow these tips to make sure everyone has a great time.
It's All About Inclusion
One of the most important things summer camp staff can do to help children feel like they belong is to make a concerted effort to include kids who may want to retreat from social situations. The American Camp Association (ACA) has several useful resources pertaining to the importance of child participation at summer camp.
"The building blocks of self-esteem are belonging, learning, and contributing," Michael Popkin, family therapist and founder of Active Parenting, wrote in an article published by the ACA. "Camps offer unique opportunities for children to succeed in these three vital areas and even beyond home and school."
Patience and Understanding
Even if a child is reluctant to share why they do not want to get involved in an activity, it is important that summer camp staff make repeated efforts to get to the bottom of the situation. After all, part of their job is to act as trusted friends and mentors.
Exercising patience and understanding when encouraging active participation is something that all summer camp staff should strive to do, according to family therapist Michael Ungar.
"Children at camp can't be treated like customers if they are going to get anything out of the experience," Ungar wrote in an article published by Psychology Today. "They need to be treated like students whose caregivers, the counselors, know what the kids need to grow."
Flexibility is Key
Although it is important for summer camp staff to retain control of a group and adhere to a set schedule of activities, it may be worthwhile to create a list of backup things for kids to do, and summer camp has no shortage of options.
Peter Scales, a psychologist and senior fellow with the Search Institute in Minneapolis, told the ACA that summer camp provides children with a range of valuable experiences.
"Camp is one of the few institutions where young people can experience and satisfy their need for physical activity, creative expression and true participation in a community environment," Scales said.
By fostering an inclusive environment, providing alternative activities and remaining patient and flexible, summer camps can ensure that all children have the best experience possible.
Ani Kington
Originally from Columbus, Ohio, Ani is a fan of exploring new places through photography and the local cuisine. After earning her BFA in photography from NYU and gaining communications experience at International Planned Parenthood Federation, she joined InterExchange in 2012, and worked as the Marketing Producer until 2016.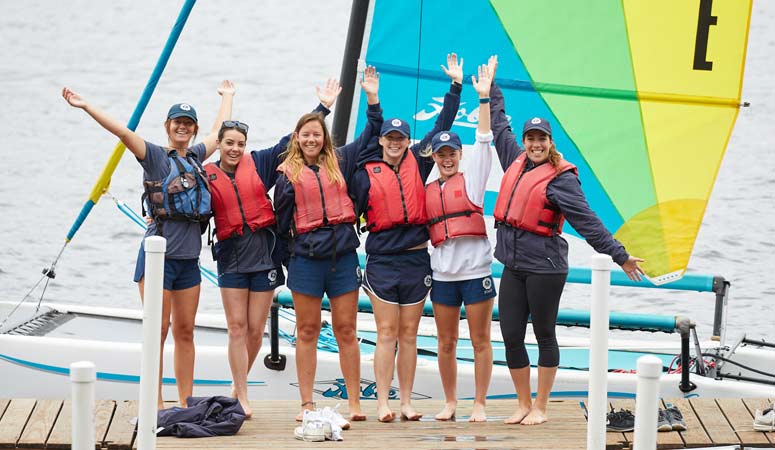 Work with kids and enjoy the American outdoors at camp.
Sign Up
Learn More
Call Us