---
How Summer Camp Staff Can Teach Children About Art
---
2 minutes
 and children. In addition to teaching kids the importance of respecting the environment and valuable outdoor skills, camp can also be a great place for children to continue learning throughout the summer. Many camps offer reading and physical activity programs for kids, but staff can also teach children the importance and value of artistic expression.
Innovative Approaches, Endless Possibilities
When coming up with art projects for campers, staff should keep in mind that designing activities that appeal to most children may be easier than when creating engaging literacy plans, for example. While kids may be at varying reading levels and some may balk at the idea of reading books while at camp, most will enjoy the opportunity to create something with their hands.
Art also provides campers with an environment in which they can feel comfortable with a more free-form project, as there are no right or wrong approaches to creating art. Summer camp staff should also note that some kids may initially struggle with this type of expression, as they may be more familiar with structured learning in more academic subjects such as English and math. With some gentle encouragement, kids can grow more inclined to explore new ideas, materials and techniques.
Whatever Is on Hand
Another key benefit of creating art projects in a camp environment is the diversity of materials that are available. For instance, summer camp staff can have kids draw cave paintings on rocks using chalk or create patterns in the sand using sticks. Nature also offers plenty of collage materials.
The possibilities for simple, fun and engaging art projects are limited only by the camp leader's imagination. It is important, however, for camp counselors to make sure the environment is left as they found it, and clean-up can be a great way to teach kids the importance of teamwork and responsibility.
Group Work
Although perhaps slightly more challenging than individual projects, creating something as a group can be a tremendously rewarding experience for kids. Not only can group activities teach children how to work with one another but it can also be valuable for children to see a work of art come together through teamwork.
With some forethought and imagination, camps can develop artistic activities that are fun and engaging for children. From individual projects to large-scale group assignments, the possibilities for artistic expression are truly endless.
Ani Kington
Originally from Columbus, Ohio, Ani is a fan of exploring new places through photography and the local cuisine. After earning her BFA in photography from NYU and gaining communications experience at International Planned Parenthood Federation, she joined InterExchange in 2012, and worked as the Marketing Producer until 2016.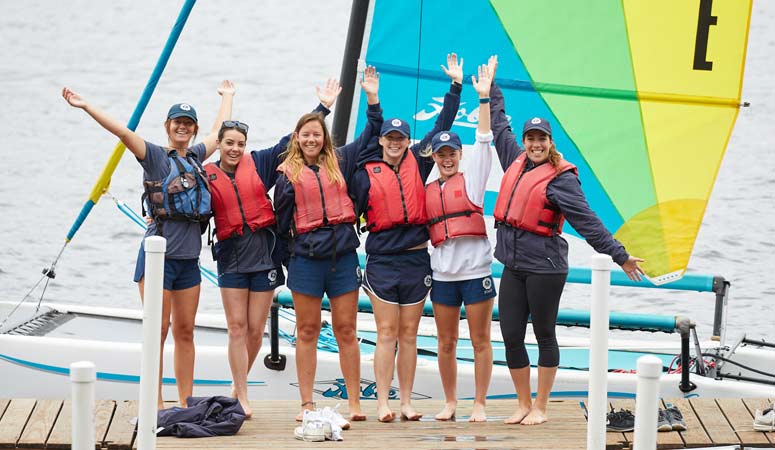 Work with kids and enjoy the American outdoors at camp.
Sign Up
Learn More
Call Us