---
U.S. Summer Camps Are Already Hiring! Submit Your Application Soon!
---
2 minutes
 available.
InterExchange Provides:
An orientation and interview in your home country
A camp placement offer* including stipend, room and board for the duration of the placement
Documents to obtain a J-1 Visa (DS-2019 form)
Accident and sickness insurance for 3.5 months
Roundtrip airfare supplement
Housing in New York City the night before you travel to camp (if applicable)
Assistance with transportation from New York City to camp
Camp USA Participant Handbook, Inside the USA guide, Camp USA T-shirt and Certificate of Completion
Independent travel time after camp
24-hour program support throughout the summer
Start the application process today.

Stipends: How Much You'll Earn Working at Camp
Summer camp jobs can be hard work, but you'll be compensated well for your efforts. InterExchange guarantees a competitive pay rate for participants in our Camp Placement program. Stipend amounts vary based on the type of camp jobs, as well as age levels.
Your stipend may not look like much, but with room and board included, it's money in the bank!
If you already have a job and are participating in our Self Placement program, then you'll negotiate your stipend directly with your camp.
Stipends for InterExchange Participants in the Camp Placement Program Are:
| | |
| --- | --- |
| Job | Stipend |
| Counselor (age 18) | $1,550 |
| Counselor (ages 19 – 20) | $1,650 |
| Counselors (ages 21 and over) | $1,750 |
| Special Needs Counselors | as above + $100 |
| Support Staff | Minimum wage or at least $2,700 (pre-tax) |
If you are a counselor and do not buy your own plane ticket, your stipend will be $900 (age 18), $1,000 (age 19-20) or $1100 (21 and over).
These stipends are all based on a 9-week (63-day) schedule. If your placement lasts longer, you'll be paid an additional $30 for each additional day you work. And remember, your camp will also provide you with free housing and meals.
Your adventure doesn't have to end when the camp season is over. One of the great advantages of InterExchange Camp USA is that it gives you the opportunity to travel anywhere in the U.S. for up to 30 days after you finish working at camp.
Because you'll meet many other young adults who are working camp jobs over the summer, you're likely to make friends who can travel with you. And since you've already been in the U.S. for several months, you'll have improved English skills and a better understanding of American culture, which will make it easier for you to travel. Plus, you'll have the money you earned at camp to help pay for your travel.
InterExchange staff will still be available to provide support and assistance if you need us during your travel period. If you ever have questions or problems, we're always here to help.
If you're looking for more travel resources, check out the Cultural Compass, our guide to exploring the USA!
Ani Kington
Originally from Columbus, Ohio, Ani is a fan of exploring new places through photography and the local cuisine. After earning her BFA in photography from NYU and gaining communications experience at International Planned Parenthood Federation, she joined InterExchange in 2012, and worked as the Marketing Producer until 2016.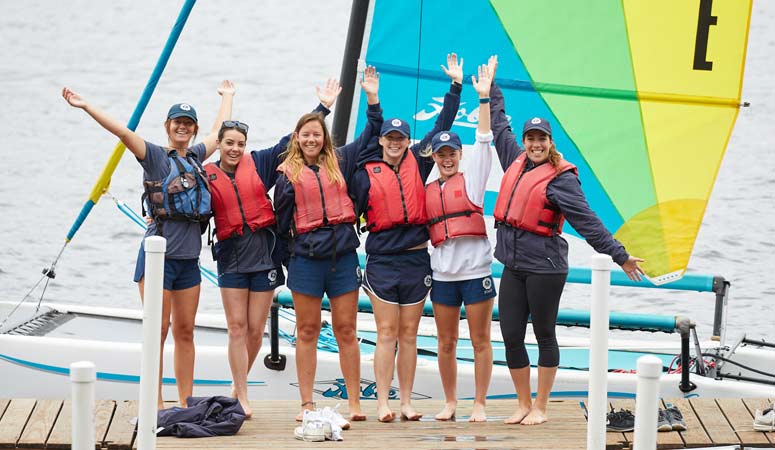 Work with kids and enjoy the American outdoors at camp.
Sign Up
Learn More
Call Us