---
Want to Work at a Camp in the USA? Start Our Application Process!
---
2 minutes
Are you ready for an amazing summer in the USA? Sign up with the application process! Our application process isn't difficult, but it does take some time. We recommend that you get started as early as possible. Early planning will not only increase your chances of being placed at a camp in America, it will also ensure that our team has enough time to process your application and provide you with the necessary visa paperwork.
Camp Placement Program Application Process
Complete this short form to begin the application process.
If there is an international cooperator in your home country, they will contact you with more details on the program. If there is not an international cooperator in your country, you will need to find a camp job on your own and apply for the Self Placement program instead.
Fill out the application and submit it to the international cooperator.
Attend an interview and orientation session with your international cooperator.
If accepted to the program, we will begin the matching process.
Self-Placement / J-1 Visa Sponsorship Application Process
If you are participating in our Self-Placement program, you will need to complete several steps:
Attend an interview with your camp (via phone, Skype, or Internet conferencing).
Obtain a contract, written on camp stationery and signed by the camp director, including dates of employment, stipend, and position at camp.
Begin the Self Placement application process by completing this short form. A Camp USA staff member or international cooperator from your home country will then contact you.
Pay all applicable fees.
Make a visa interview appointment at your local U.S. Embassy and pay the U.S. Embassy J-1 processing fee.
* Note: All fees must be paid before we can process your application.
Ready to get started? Start the application process.
What Are International Cooperators?
International Cooperators (ICs) are independent individuals or agencies based in countries outside the USA. InterExchange Camp USA works with a wide network of ICs in order to recruit the best candidates for camp jobs. They're your first point of contact when you apply to the program. Your IC will pre-screen your application and may invite you to an interview and orientation session.
Ani Kington
Originally from Columbus, Ohio, Ani is a fan of exploring new places through photography and the local cuisine. After earning her BFA in photography from NYU and gaining communications experience at International Planned Parenthood Federation, she joined InterExchange in 2012, and worked as the Marketing Producer until 2016.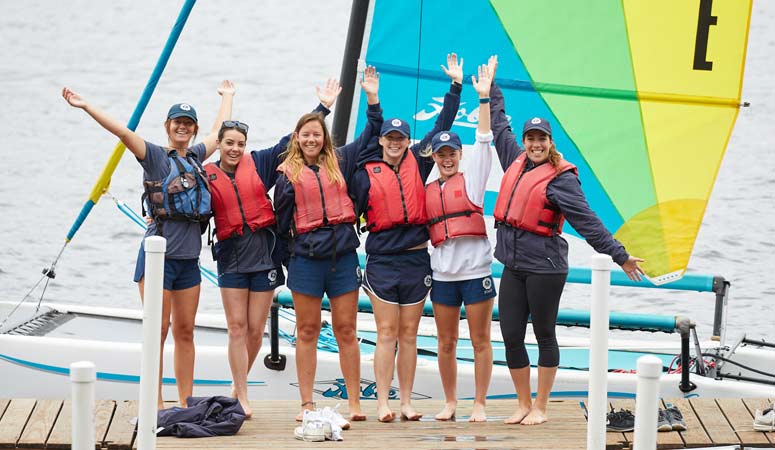 Work with kids and enjoy the American outdoors at camp.
Sign Up
Learn More
Call Us