---
Icebreaker Ideas to Welcome International Camp Staff
---
2 minutes
A great way to welcome international camp staff to their camp jobs and new home for the summer is to organize some icebreaker games. Social events and games that allow camp staff and camp counselors to get to know each other helps everyone feel more comfortable and excited about the summer to come.
Icebreaker Game Ideas for Camp Staff
Two Truths and a Tale: The group members must take turns going around in a circle introducing themselves, and then naming two truths and one lie or made-up tale about their life. For example, "I was born in Germany", "I have four sisters" and "I once bungee jumped." The group then must guess which statement is the "tale" or lie. Camp staff are able to show off their personalities with creative and funny answers, and everyone learns about the rest of the group.
Name Game: Have everyone introduce themselves to the group. Next, have two people hold up a blanket or some type of divider, and split the group into two teams, making sure that each team cannot see the other group. Have one person from each team step up to the edge of the divider. On the count of three, they each jump out and look at the opposite team member. The first person that can name the other player correctly earns a point for their team.
Where in the World: Give each group member enough time to think of three clues about either the country they are from, or the place they most want to visit or have visited. Each person must then stand up and recite their clues while the rest of the group guesses. The person can then talk a little more about their favorite place or home country, and everyone can learn more about the staff members. This is especially fun for international staff who can come from many places around the world!
3-Minute Mixer: This icebreaker is almost like speed dating but with a focus on friendship, not romance! Have everyone in the group pair up with another team member for 3 minutes of chatting and getting to know one another. Blow a whistle or make an announcement when three minutes are up, and have everyone switch to a new partner. This allows for one-on-one chats without the pressure of speaking in front of new group of people.
Camp directors that have experience with any other icebreaker games can share their ideas in the comments below! What helpful exercises have you found useful with international camp counselors and support staff?
Ani Kington
Originally from Columbus, Ohio, Ani is a fan of exploring new places through photography and the local cuisine. After earning her BFA in photography from NYU and gaining communications experience at International Planned Parenthood Federation, she joined InterExchange in 2012, and worked as the Marketing Producer until 2016.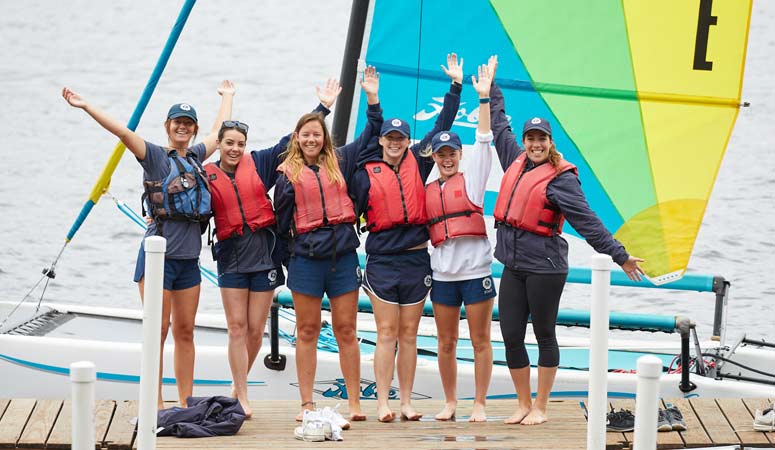 Work with kids and enjoy the American outdoors at camp.
Sign Up
Learn More
Call Us