---
Camp USA Hosts Share their Stories!
---
5 minutes
There are many reasons to become a host.
However, Judson M., from Stone Mountain Adventures, put it simply. He became a host "to hire quality staff with a different perspective who are passionate about working at camp."
Our hosts have found the experience to be rewarding.
Emily S., from Camp Stonewall, explained that, "International counselors have opened the eyes of our campers to how big - and yet small! - the world can be. InterExchange participants have made unfamiliar accents, phrases, sports, recipes, crafts, and dances part of our everyday lives at camp. Each year, we use International Day to introduce more of these amazing cultural differences to our camp community. And every year, kids list it as their favorite event of the summer!"
Meanwhile, Judson M. added that, "the dynamic that international staff bring to our camp is fantastic."
So many stories have come out of this experience!
When asked about a favorite story, Judson M. wasn't able to even choose one. However, teaching staff to drive on the right side of the road can be a harrowing experience - but since he used to live in England, he can relate and empathize.
"This year, we've been lucky to have 3 fantastic InterExchange counselors return to us for a second summer," said Emily, "and among our new staff is the sibling of one of our original (and later long-time) international counselors. Making those announcements on our Facebook page, and seeing the outpouring of pure, crazy joy from our kids (and their PARENTS!) just reinforced how potent this experience is on all parts of the spectrum." It is truly apparent how much the community cares about these wonderful counselors!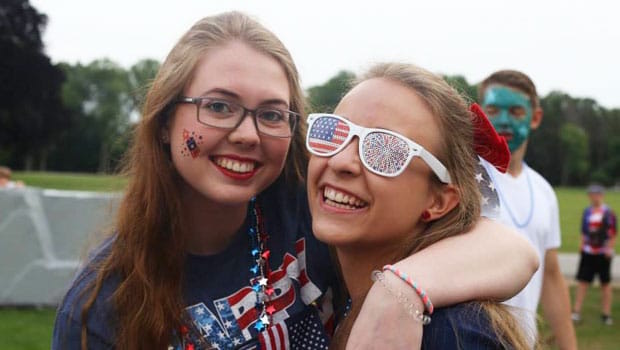 Hosting camp staff has helped camps to embrace diversity, and to see the world a bit differently.
Judson M. said, "No matter where in this awesome world you come from, once we are all at camp and working towards a common vision we can all be one."
Emily S. added, "Personally, it has helped me to embrace what InterExchange does best, and that is appreciate true diversity. In my own camp counselor history, the international counselor placement agencies limited their recruitment to the UK and Australia/NZ. When I started recruiting as a director myself, I was almost suspicious of InterExchange's ridiculously diverse global reach, like maybe the "other guys" figured out that a more limited area was better for some reason. Nope. InterExchange is just quietly being amazing at finding young adults from all around the world to share the camp experience with. I feel we truly partner as organizations to spread the value of cultural exchange, and that philosophical alignment has helped us be even more purposeful in choosing, retaining, and maintaining relationships with new/former staff."
Hosting has allowed camp staff to share their culture in little ways.
Emily S said that "our international staff cannot believe how often and how passionately we "High Five" at camp!" She explained that participants are often surprised by this camp tradition at first. However, "by the end of the summer they are "high fiving" more than we are!"
Judson M. added, "they love tea more than coffee!"
But they got the chance to share in big ways, too.
Judson M. explained that, "counselors usually come with quite a bit of curiosity about American culture, and I think camp helps break down stereotypes more than anything. Counselors are usually fantastic ambassadors for Americans (thankfully!), but kids are REAL," he explained. "Kids get to be themselves at camp, and I think what our international counselors discover through our kids is a sincere appreciation for American culture and love of its people."
Emily S. learned from the participants' inclusiveness and willingess to be open. "It would be so easy for them to stick together and speak Spanish or Czech when no one's around, and I know as an American, I'd 100% be looking for any opportunity to speak English," she said. "But this immersive opportunity is one that pretty much everyone has taken really seriously, and to the contrary, these young people put themselves out there for eight weeks straight, even though it is extremely difficult at times."
Hosting is full of surprises!
Judson said that the most surprising thing is, "how long the bonds last." Emily was suprised by how hard it is to say goodbye! "It shouldn't surprise me," she said, "because we've been through it a lot. But our staff has gotten bigger each summer, and I keep thinking that'll mean I have to fade into the background a bit, and won't build as many close relationships with the counselors. Especially because for so many international staff, 1 summer is all they can commit to. But nope, the tears get worse every August - not better!"
"Do it." The advice is straightforward!
When asked what her advice to hosts would be, Emily says, "first and foremost, do it. Don't hesitate. But more specifically when it comes to hiring, think not just about the skills a counselor brings, but what country they're bringing them from. Dance is a great example - someone from Bolivia is going to teach dance so, so differently than someone from Ireland, or New Zealand, or the Czech Republic. With each prospective hire, consider how their cultural influence will shape what your kids think of when they think of program areas. You may come to realize there are things you just don't want to do without. For example: break dancing. YES!"
Judson's advice? "Do it. Be open to new ideas. The energy your international staff bring to camp will be contagious."
Stephanie Willhide
Stephanie started her career working for a cultural exchange program that supports English language learning in Chilean public schools. She came to InterExchange's Au Pair USA program in 2013, and now works as the Web Developer.
Add cultural exchange to your camp with international counselors.
Sign Up
Learn More
Call Us