---
Yale & Harvard Universities - New England for today's travelers
---
5 minutes
Content of the trip: who doesn't love the American 'feel good' TV series?
For all of you who are interested in visiting the top universities in the country and getting an insight of what it would be like to study there…
For all of you who have always wanted to visit the Gilmore Girls set, see where the kids from Dawson's Creek studied and more…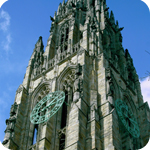 Where to go:
New Haven & Yale University
Hartford
Boston
Harvard Law School
When to go:
Late May to early July and September-October are the best times to visit. Everything is open, prices are moderate, days are warm, and nights are cool.  The colors in the fall in New England are stunning.
How to get there:
If you live in the New York area, you can easily plan this trip by booking the Greyhound buses. They run from New York to New Haven, to Hartford and then on to Boston.
New York to New Haven:       one-way ticket $15, approximately 3 hours.
New Haven to Hartford:        one-way ticket $10, approximately 1 hour.
Hartford to Boston:                 one-way ticket $20, approximately 2 hours.
Boston back to New York:      one-way ticket $25, approximately 5 hours.
Prices and travel times are scheduled according to departure date. I verified these prices for your convenience for the month of May, however… these are general Greyhound bus prices meaning you do not have to travel in May.
You can call the Greyhound reservation line 1-800-231-2222. Let them know that you want to book a 'one way ticket' because they will over-charge you when you buy a 'round trip ticket' to visit these cities. The cheapest fare will be given to you when purchasing the 14 days in advance ticket which is non refundable. If you are unable to book 14 days in advance make sure you request the student discount.
For more information go to: http://www.greyhound.com/travel_information/purchase.shtml
Another very inexpensive bus company is Megabus, which operates between New York and Boston. Check out www.megabus.com/us/ for timetables and special fares.
If you do not live in the New York area you can book an airplane flight to Boston and book your bus tickets to the other cities from there.

Places to stay
In New Haven: several hostels are available http://www.hostelbookers.com/hostels/usa/new-haven/.
For those of you who can afford more, you can rent your room at Yale University Campus: http://www.marriott.com/hotels/travel/hvndt-courtyard-new-haven-at-yale/
In Hartford: Hostelling International Mark Twain, 131 Tremont Street, 860-523-7255, http://www.hostelbookers.com/hostels/usa/hartford/15394/
In Boston: Hostelling International Boston, 12 Hemenway Street, 617-536-9455, http://www.bostonhostel.org/reservations.shtml
'Must see' places:
The city of New Haven:
New Haven's traditional town green is crowded with university Gothic buildings and the Harkness Tower marks the historic campus of Yale University. New Haven was established in 1637 and Yale University was founded 80 years later. If you are interested in art you may want to visit the Yale Center for British Art, the museum holds the most comprehensive collection of British art outside the U.K. There are more student-friendly museums to visit that also do not ask admission fees.
Yale University: 149 Elm Street, New Haven Connecticut State.
Start your day by dropping by the visitor's centre, they will hook you up with a Yale College student who will show you around and take you to the most famous historical and architectural places on campus. This is a great way to learn more about Yale's rich 300-year history and aspects of student life at several of Yale's twelve residential colleges. They will show you the Gothic Sterling Memorial Library (Yale's largest) and the Beinecke Rare Book and Manuscript Library.
The specialty of these tours is that there is no fee or appointment needed, but it's a nice idea to give your guide a tip since they are young professionals (just like us) who can use some extra money. The tour lasts about 1 hour 30 minutes, prior to the tour you can see a video about campus life. After the tour you will have some time to walk around and act like 'one of them…'
You can also decide to tour the campus on your own. Purchase a copy of the Blue Trail map, which includes a suggested self-guided tour route, and a brief history of the University.
Or use their portable MP3 players: you can listen to pre-recorded audio tracks on a self-guided MP3 tour throughout campus.
And if you can, take a minute to sneak in their dorm rooms to see how the students live…
Hartford:
The capital city of Connecticut is known for its history, and famous residents including author Mark Twain [Huckleberry Fin] and Harriet Beecher Stowe [Uncle Tom's Cabin].
Hartford's 37-acre Bushnell Park features a carousel from 1914 that still works, there are many concerts in this park also.
What you might recognize from the TV series Gilmore Girls is the secondary school building Rory attended, and her grandparent's house. Stars Hollow is the town where they live, this is fictional but Hartford city is worth a visit. The State Capitol at Capitol Avenue and Trinity Street is an imposing white marble and granite building, with a golden dome.
Boston:
Historic, attractive and with neighborhoods of manageable size, it's also young at heart because of the 35 colleges and universities in the Boston area. Within Boston there is a neighborhood called Cambridge, host of Harvard University founded in 1638. The city has always been a leader in U.S. intellectual life.
You can visit:
Boston Common & Public Garden, the cities heart and countries oldest public park
Freedom Trail with colonial and revolutionary history sites.
Beacon Hill & Downtown with the golden-domed State house.
North End, the area where the Dawson's Creek 5th TV series were filmed.
Cambridge neighborhood with Harvard University and Harvard Square.
Shopping: Newbury Street, Downtown crossing and Faneuil Hall Marketplace.
Harvard University:
Harvard Law School
Harvard Business School
Massachusetts Avenue
Cambridge Street
Harvard Yard
Harvard Square
Oxford Street
And everything in between for a real campus experience.
One last tip:
For all of you who are planning to travel to Connecticut and Massachusetts in November – remember the Harvard-Yale Game Day, Saturday, November 21!
I am planning on making this trip myself, anyone interested in making it an Intern and Trainee Holiday, e-mail me and I will try to set it up…
Matthew Graves
A fan of independent cinema and proponent of the Oxford comma, Matthew began his career at a Miami-based tech startup before returning to West Virginia University to pursue his M.A. in Foreign Languages. He has worked at InterExchange since 2006 and currently serves as a Marketing Project Manager.
Experience American culture and add international skills to your resume.
Sign Up
Learn More
Call Us