---
Spring 2009 Photo Contest Winner
---
0 minutes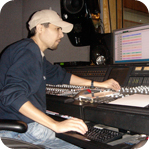 Congratulations to Farid Fard, the winner of our Spring 2009 Photo Contest. In this photo, Farid (an Audiovisual Communications Trainee from Austria) is in the control-room of his host employer's studio editing & mixing a song on a EUPHONIX CS3000 mixing console and using the DigiDesign ProTools HD program.
As winner of the contest, Farid will receive a check from InterExchange for $25.  Thanks to everyone who submitted photos!
Matthew Graves
A fan of independent cinema and proponent of the Oxford comma, Matthew began his career at a Miami-based tech startup before returning to West Virginia University to pursue his M.A. in Foreign Languages. He has worked at InterExchange since 2006 and currently serves as a Marketing Project Manager.
Experience American culture and add international skills to your resume.
Sign Up
Learn More
Call Us