---
10 Things to Do Under $10 in Chicago
---
3 minutes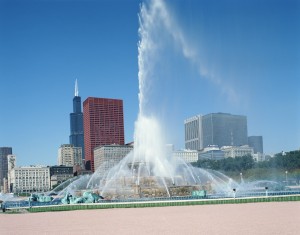 If you find yourself headed to the Windy City, get ready for a lot of fun (and a lot of snow if you are going in the winter)! Chicago is one of the most beautiful and easy-to-navigate cities in the U.S. With beaches, cool restaurants and stores a plenty, you might have to extend your trip for an extra day or two!
1. Garfield Park Conservatory:  With six greenhouses and two grand exhibition halls, the Conservatory is called "landscape art under glass." It boasts a gorgeous assortment of plants from all over the world.  Admission is always free, though they do ask for donations for special exhibits and events.
2. Museum of Contemporary Art Chicago: This fantastic museum, located in downtown Chicago, features contemporary paintings, sculptures, photography, video and film, and performance art. Admission is free on Tuesdays from 5 pm to 8 pm.
3. Skokie Northshore Sculpture Park: Located just north of the city, this free park displays a variety of contemporary sculptures—over 60. It is definitely worth it to spend an afternoon walking around here with some friends. Close by is one of seven Ba'hai temples in the world in Wilmette, IL. It is definitely worth the side trip!
4. Lincoln Park Zoo: Over 230 different species can be found at the Lincoln Park Zoo. Admission to the zoo is free 7 days a week! You can download the Visitor's Guide on the zoo's website. Special note: during the Holiday season, the zoo is one of the best places to see Holiday decorations, with over 1 million lights!
5. Chicago Greeter Program:  Local volunteers provide free guided walking tours of the city. Tour groups have a maximum of six people for a personalized experience with a city expert and can last from 2 – 4 hours.  You can sign up online HERE.
6. Hot Doug's: This place calls itself "The Sausage Superstore and Encased Meat Emporium."  That pretty much covers it. You may think you've had hot dogs and sausages before, but you haven't had a Chicago red hot just ask what it is)! Try the Bacon Cheeseburger Beef Sausage with Coca-Cola BBQ Sauce and Maple-Smoked Cheddar Cheese for $7.50. Tons of menu items can be found for under $10, but be prepared to wait in line.
7. The Shakespeare Project of Chicago:  Attend a play for free. Get there early because seating is limited.  For current productions and schedules go HERE.
8. Buckingham Fountain:  In the center of Chicago's Grant Park, you can find one of the largest fountains in the world.  A 20-minute water show occurs every hour on the hour (from 8 am to 11 pm) from mid-April through mid-October, and the winter months feature festive lighting decorations.
9. Chicago Architecture Foundation:  Learn all about the architecture of Chicago- for free!  They feature a variety of exhibits and display models. Open and free to the public 7 days a week, 9 am to 5 pm. For more information go HERE.
10. Navy Pier: Chicago's "lakefront playground" on Lake Michigan has over 50 acres of gardens, promenades, parks, restaurants, shops and attractions. There are tons of daily events and activities. You can ride the Ferris wheel for $6 or visit the beautiful Smith Museum of Stained Glass Windows for free! Check the Navy Pier websitefor up-to-date info on what's happening.
Experience American culture and add international skills to your resume.
Sign Up
Learn More
Call Us