---
A Weekend in the Capital
---
7 minutes
Blog post written by InterExchange Career Training USA trainee—originally from France—Jenny Ba.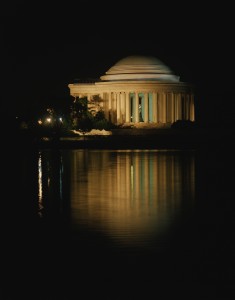 As a visitor in the U.S., there was no chance I would not stop by the U.S. capital city, Washington D.C. I have always had a deep interest in American history and could not wait to learn more about it outside of a university classroom. I was expecting it to be a very full-on weekend and it happened to be even busier than what I thought. Washington D.C. has so much to offer, that 2 days and a half were far from enough to do and see it all. But in the end, I managed to make the most of it and would recommend everyone to visit it.
I had not planned my weekend in advance; I had only printed out the '10 Things to Do Under $10 in DC' blog page on the InterExchange website and assumed that I would walk around the monuments, go to the Holocaust Museum —highly recommended by many of my friends— wander in Georgetown and join some activities organized by the hostel. This turned out to be a great and very cheap weekend!
I hopped on the train from Penn Station, New York City for a peaceful 3-hour journey to Washington D.C. As soon as I got off of the station, the architecture and whiteness of the city was striking to me. The streets were all clean, empty and surrounded by magnificent buildings. This is one of the things that I love about the U.S.: most cities have their own identity and a different vibe. Washington's vibe was definitely inspiring history, architectural variety and quietness to me. I did not waste a minute and took the convenient Circulator Bus that goes around the city every 10 minutes for only $1 per ride. I had no idea where to start and got off at the North part of the city that leads to the National Mall. I walked around and happened to be in the middle of a protest. It did not take me long to figure out that I was right next to the White House. I had seen it so many times in movies, mainly from a helicopter view, that it seemed different, bigger and extremely bright. I spent the next 3 hours wandering around; starting with the Ellipse to reach the so-famous National Mall. However, the more I looked around, the sadder I felt: I realized that there were dozens of monuments and museums that I will not have the chance to stop at because of my tight schedule!
I managed to visit most of the main national landmarks starting with the Washington Monument, which was unfortunately closed due to the recent earthquake. I then enjoyed walking along the Tidal Basin to reach the Jefferson Memorial. The view was picturesque, no matter where I was standing. I could not take my eyes off the monument surrounded by the water and took countless pictures. The wise inscriptions posted on the building's walls -extracted from Jefferson's speeches- made me want to refresh my knowledge of him. I headed to the museum located underneath the monument and went through his interesting biography. Feeling in the mood for more history 'lessons', I decided to go to the Holocaust Memorial Museum. I spent 90 minutes following the main exhibition until the Museum closed its doors. There were so many things to read, short movies to watch and pictures to look at that I realized that I had to come back the following morning to finish it.
My feet burning and tired from so much walking, I gathered the little energy left in me to cross the East side of the National Mall, walked past the Smithsonian Institution Building and got the chance to enjoy the U.S. Capitol at dusk. The scene was even more splendid than the Jefferson memorial! The place strangely reminded me of a mix of the Trocadéro and of the Sacré Coeur in Paris: spectacular.
After 5 hours of sightseeing, I decided to take a taxi back to the hostel. There, I met an Argentinean girl studying in Minnesota and we agreed on going to the pub-crawl together. Around 15 people had signed up for the crawl, which started at Dupont Circle. Dupont Circle is nothing more than a traffic circle hosting a fountain in the middle, but what makes it so attractive are the cute benches, vegetation, ostentatious mansions around it and more surprisingly, the chess tables where competitions are on at any time of the day and night. The chess tables evoke so much of the African American culture to me that I could not stop staring. I was dying to take a picture of the players but our tour guide warned us beforehand not to disturb them as they take this game very seriously and can get angry.
We then stopped in front of the sumptuous Embassy of the Republic of Indonesia that used to be a private residence. We also played a little quiz game to find out what were the purposes of some prosperous buildings along Massachusetts Avenue and found out that some buildings were private social clubs, where only elites could have the privilege to join. To be accepted in the Cosmos Club for example, one has to receive distinctions in science, literature or the arts. Another club, the Society of the Cincinnati would require you to prove that one of your ascendants fought for America in the past. My chances to enter one of these -not that I have ever considered it, dropped to zero. After the quiz, our tour guide first led us to the fancy Russian House—serving countless different vodkas—he then walked the group to Adams Morgan, a vibrant area in D.C. to share a few drinks at a bar called The Reef.
The following morning, I woke up early to finish the Holocaust Memorial Museum and managed to go through most of it in 2 hours. Though I tried to skip the 'too-emotional-sections' of the museum, it left me speechless and by the end of it, I truly needed to be cheered up and decided to head to beautiful Georgetown. On the way, I noticed some tents set up everywhere in McPherson Square and realized that I was right where 'Occupy D.C.' sets up its encampment. Along the side of the park, some homeless were also lining up to get food from a bus.
Georgetown washed away the sad image I had just seen, and I was happy to be able to make it on a sunny afternoon. The area seemed completely different from downtown D.C. Georgetown was much more colorful and lively. There was a wide variety of shops, restaurants with nice frontages—It actually reminded me of Boston. I could not help starring at people around me, everyone looked 'classy': most men were wearing V-neck jersey tops; beige pants matched to their brown moccasins and had perfectly sprayed hair. Women looked very posh, stylish but in a stricter way than in New York. I wandered there for a couple of hours before returning to the city.
In the evening, my new friends and I joined the hostel activity again, which consisted of a classical concert at the prestigious Kennedy Center. I was hoping to attend a free music performance there as listed in the blog post I had printed out and was glad to be able to share this experience with my friends. The band, called the Sixth Floor Trio, played some of their compositions but also turned famous musicals' tunes and rocks songs into classical version(s). We all enjoyed it very much and found the performance pretty original and entertaining. We then all wanted to explore Georgetown by night, mainly to get some thrills. We started with the famous stone stairs seen in the movie 'The Exorcist'. Both the darkness and quietness of the area seemed perfect to shoot a scary movie scene. The climb was actually very creepy and I was happy not to be by myself when experiencing it. Georgetown University, which hosted a few scenes from the movie, was amazingly pretty and seemed out of a horror movie too. The main building, Healy Hall, reminds me of an old boarding school where you would expect a flash of lightening to appear at any time and make you jump out of your seat!
The following morning, for my last activity, I chose to go to the National Museum of American History. I could have spent the whole day there… I personally loved the African American Civil Rights History section, and managed to go through all the wars the U.S. has been involved in, from the War of Independence to the War on Terrorism. This was definitely a good choice of mine and I strongly recommend it.
Washington D.C. is an incredible city. It has so many museums, historical sites, events, scenes, etc. that everyone can find activities and attractions that suit them. The capital city is definitely a must-go place in the U.S. if you are interested in learning more about your new host country. For more ideas on what to see and do in D.C., you can also visit our D.C. travel guide.
Experience American culture and add international skills to your resume.
Sign Up
Learn More
Call Us