---
Top 10 Things Under $10 to Do in Seattle
---
1 minute
Smith Tower: The Smith Tower offers a great view of downtown but only costs $7.50 per person—much cheaper than the $19 that the Seattle Space Needle charges!
Gasworks Park: Check out this beautiful public park on the site of the former Seattle Gas Light Company. Besides the unique old factory, it has a great view of the Seattle skyline.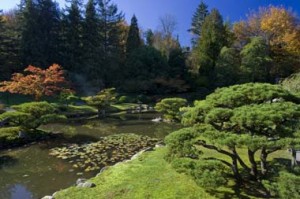 Image courtesy of State Symbols USA
Washington Park Arboretum: Get lost in the greenery. The arboretum is always free and open to the public.
Original Starbucks: Pike Place market is home of the original Starbucks Coffee. Grab a cup at this iconic coffee shop.
Seattle Asian Art Museum: This lovely Seattle museum costs only $7. You could easily spend an entire afternoon there.
Walking Tours: There really is no better way to get to know a city than by taking a self-guided walking tour.
Hot Dog Stand:  This cheap and delicious hot dog stand is a favorite in the Capitol Hill neighborhood.
Go Canoeing: You can rent a canoe or rowboat for $8.50 per hour on weekdays.
Olympic Sculpture Park: This beautiful park features a variety of contemporary artwork and is always free to the public.
Saigon Deli: This is many Seattleites' go-to spot for Banh Mi in the city.  Banh Mi are delicious Vietnamese sandwiches on French bread.  Try one along with the other snacks and treats at this local deli.
For more ideas about what to do in Seattle, read our Seattle Travel Guide!
Why is Seattle named Seattle?  Find out in our What's in a Name Series: Seattle
Allison
Allison joined the InterExchange team in 2011 and holds a B.A. in International Affairs and an M.A. in Higher Education. She oversees the daily operations of the Career Training USA program where she has the privilege of working with students and professionals from around the world pursuing U.S. internships and training programs. Allison is originally from Massachusetts and studied abroad in Buenos Aires, Argentina.
Experience American culture and add international skills to your resume.
Sign Up
Learn More
Call Us