---
March Madness!
---
2 minutes
Every March, 64 college basketball teams qualify for the National Collegiate Athletic Association (NCAA) tournament to determine the national champion. An official committee ranks the teams and divides them into four equal groups (or "regions") with the best teams in each group being matched up against the weakest teams. Over a three-week period, games are played in select cities across the U.S. with teams that lose being eliminated and winners moving on through the "Sweet Sixteen" and the "Elite Eight" until each region has only one team left. These regional winners then advance to what is called the "Final Four." The winners of those two games then play in the national championship game and the winner is crowned champion.
The tournament is extremely popular, even with non-sports fans, because of the March Madness betting pools that people play in, usually at their office with colleagues or with groups of friends or family. March Madness is a fun tradition in the U.S. that brings people together for some friendly competition.
Before the tournament begins, pool participants will fill out their own tournament bracket with their guesses for which team will win each game. They then pay a small amount of money to enter the tournament pool, with the winner of their pool (and often the people who finish highly) getting a big prize for having the closest guesses. Because college basketball can be very unpredictable, even people who don't follow the sport often win these pools—and so-called experts are often very wrong! It is almost like a month-long lottery, with people all across the country tuning in to watch the games on TV and check how their bracket is doing.
The 2012 tournament bracket looked like this. What will 2013's be?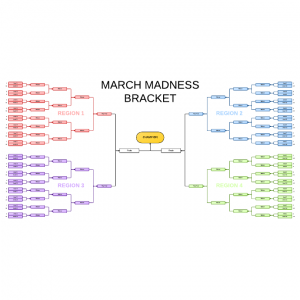 InterExchange Career Training USA is a top J-1 Visa sponsor for university students and young professionals who have already secured internships or training programs with companies in the U.S. If you still need to find an internship or training program in the U.S., check out our resources and start the J-1 Visa sponsorship process early.
Allison
Allison joined the InterExchange team in 2011 and holds a B.A. in International Affairs and an M.A. in Higher Education. She oversees the daily operations of the Career Training USA program where she has the privilege of working with students and professionals from around the world pursuing U.S. internships and training programs. Allison is originally from Massachusetts and studied abroad in Buenos Aires, Argentina.
Experience American culture and add international skills to your resume.
Sign Up
Learn More
Call Us