---
Summer at the Cape
---
4 minutes
Cape Cod is one of New England's biggest tourist destinations in the summer months. This historic cape in eastern Massachusetts boasts miles of beaches and unique seaside towns full of quaint cafes, art galleries and shops. The cape is 70 miles long and is divided into six regions. The four regions on the cape are the Upper-Cape, the Mid-Cape, the Lower-Cape, and the Outer-Cape. The last two regions are the islands of Nantucket and Martha's Vineyard.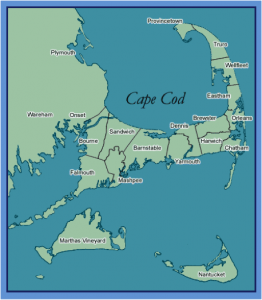 Map courtesy of VirtualCapeCod.com
History
Cape Cod has a long history, as evidence has been found of people living there for over 5,000 years. More recently, the cape also played an important role in the discovery of America. It is thought that Norse voyagers explored the cape as early as the 10th century. Later, many other explorers visited the cape, such as Giovanni de Verrazzano, Estevano Gomes, and Henry Hudson. Cape Cod was given its name by Bartholomew Gosnald who landed in Provincetown in 1602. Apparently he decided to name the area "Cape Cod" due to the large amount of cod his crew was able to catch.
Cape Cod is most famous due to its connection with the first Pilgrims. Contrary to popular belief, the Pilgrims and the Mayflower did not land at Plymouth Rock but actually in Provincetown on Cape Cod on November 11th 1620. The Pilgrims had originally planned to travel further south to the territory of Virginia where they had been given permission to settle. Unfortunately, when they tried to sail south they encountered harsh, shallow seas and risked the boat tipping over. Instead, they rerouted to land on Cape Cod and started their own settlement. Since Cape Cod was outside of the area they meant to arrive in, the Pilgrims decided to form their own government and wrote the Mayflower Agreement. Later, they traveled to Plymouth where they chose to build a permanent colony. When they arrived in Cape Cod, the Pilgrims encountered the Wampanoag people, a Native American tribe, who had lived in the area for many centuries. They helped the new settlers to learn to live off the land.
What to Do
Today, Cape Cod is a popular tourist destination. The summer is the best time to visit to take full advantage of all the beaches and outdoor activities you can do. To help plan your visit to the Cape, check out these suggestions for things to do and see:
This is only a sampling of what you can do in Cape Cod! For more travel ideas, check out "52 Things to Do on the Cape and Islands" from Cape Cod Travel Guide.
InterExchange Career Training USA is a top J-1 Visa sponsor for university students and young professionals who have already secured internships or training programs with companies in the U.S. If you still need to find an internship or training program in the U.S., check out our resources and start the J-1 Visa sponsorship process early.
Sarah Wadlinger
A Pennsylvania native, Sarah Wadlinger has a B.A. in International Studies and served as the Participant Services Coordinator for InterExchange Career Training USA from 2011 to 2013.
Experience American culture and add international skills to your resume.
Sign Up
Learn More
Call Us