---
Advice & Memorable Experiences From Career Training USA Participants
---
6 minutes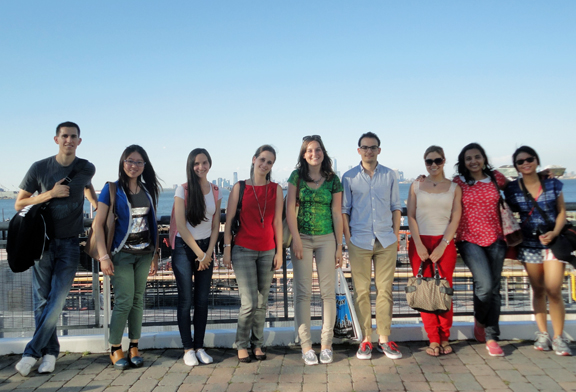 Career Training USA participants in Staten Island, before attending a Staten Island Yankees baseball game.
Coming to the USA for an internship is an exciting opportunity filled with new challenges and rewarding experiences. You can pursue your professional career with a U.S. host employer, and also explore America and its culture. In our 2013 final evaluations, we asked participants what advice they would give to future interns and trainees and to share a memorable experience from their time in the States. We hope the following information from our past participants will help you prepare for your trip to the U.S. and for the experience of a lifetime!
What advice would you give to future interns and trainees?
Before the program:
Start early with everything, make sure you have enough time to arrange everything, like going to the Embassy.
Don't hesitate to contact InterExchange if you have any questions, and enjoy your experience as much as you can. It's a great opportunity.
Go through the InterExchange materials before coming to the U.S., as they are very useful.
Contact InterExchange with any questions, this great team will do their best to help every intern in the U.S.
Prepare yourself for culture shock, the handbook is very well thought out, follow their advice. Do not hesitate to speak English as much as you can.
Do not wait too long to do the visa process, and do not hesitate to ask questions if you are not sure about something.
Be patient. Applying for a visa is a long journey.
During the program:
Be open-minded and social. Explore being more outgoing.
Be brave to embrace another culture and you will love where you work and live during the internship.
Enjoy, work hard and especially watch and listen to the people around you. Learn from it.
Go out and explore. Take in all the sights and sounds. The training itself is very important, but what you'll remember when looking back on everything is the experience of just living in the U.S.
Enjoy your experience and don't be shy, be who you are in the U.S. That is what matters in this country- be yourself.
Work hard and make sure you learn something while in America, if not from your internship, than within the surrounding area that you live in, language, culture, sports, foods, interact with people, ask them questions, find differences with your own culture, teach an American something from your own culture.
Keep a positive and open mind. Keep connected with people at InterExchange. Make the most of every learning opportunity. Meet new friends and go out and explore!
Enjoy every moment, try to speak English as much as you can, discover the country, and make U.S. friends. Do not hesitate to ask for help, Americans will be more than pleased to give you advice.
Always be curious and open towards new situations. Travel and do as many cultural activities as possible. Then you get out the mo
st of your program and benefit for your future career.
Be open minded and go out. You will find great people and lots of opportunities. Do not be scared of the language barrier. It can only get better and it definitely will.
Go for it. Chase your dream and make it come true.
Participants share memorable experiences they had while in the U.S.:
"While in the U.S., I did things I never dreamed I would have done before like: swimming with dolphins, going out with people from 5 different countries and realizing who and what kind of person I was meant to become. I am grateful for the time I spent here and the knowledge I attained."
"My colleagues brought me out to Beverly Hills, Hollywood, Dodgers Stadium, Universal Studios, and Malibu all in one day. Having seen all of these on television and movies but now in real life was quite mind-blowing."
"We organized a weekend trip to Yosemite National Park, which was attended by 11 interns and friends. The group consisted of two cars and two motorcycles traveling different routes to get to the proximity of the park, where we stayed in a large cabin, secured through AirBnB. During the days we explored Yosemite through driving and hiking, and during the nights we made food and soaked in a communal hot tub. It was one of very many great road trip memories."
"Beach volleyball. Started with 4 of us every Sunday. Ended up with a group of 25 playing every Saturday and Sunday. Made life long friends."
"A friend of mine invited me to go on a boat trip with him and his family. I didn't really know what to expect at first but it ended up being a tremendous experience. The lake was absolutely beautiful and the boat had so many perks. We ended up knee boarding, BBQ'ing, sight seeing, etc."
"I went to eat lunch and I met an African man with whom I spoke in French to. Then, at work, I accompanied a girl who came from Venezuela, speaking in Spanish. Afterwards, that same evening, I wanted to finish my book calmly so I sat in a Japanese restaurant, eating sushi at the bar, and met a Greek woman (her cousin had worked for my mother 10 years back!). Late at night, two friends from work came: one from the Philippines, the other from England. We went to listen to a concert; it was American music (country) and I drank a Washington Carver (a chocolate-peanut butter shake). It was an incredible day, filled with an intense mix of culture and realities. "
"I'll say Thanksgiving dinner... it was an excellent time with my friends that became my family in this year. To share the values between both cultures was very nice, and of course the food was delicious and totally different than what I use to having at my country."
"When the SF Giants won, the following day Market Street was crowded like I never saw a street crowded before. It took me roughly 45 minutes to cross that street. It usually takes 10 seconds. Everyone was smiling, singing, the atmosphere was really cheerful. That was a great way to start the day, although a bit late."
"I arrived in New York on the 4th of July, I met my roommates for the first time that day and we went on our rooftop to see the fireworks and we met our American neighbors there and we had a barbecue. It was one of my best memories."
"Knicks game in Brooklyn. Knicks won in the last second by three points. I was sitting on the first row, next to a well-known singer and we all jumped to the sky. Best moment ever."
"Tough Mudder! On May 19th, I participated in the Tough Mudder race in Chicago! That was incredibly harder than I thought, but it's a great challenge for the mind and the body! I loved it.
"A month after I arrived, I attended the 43rd annual Pride Festival on Peachtree Street. The atmosphere was just amazing and that's when I met my first and best American friend. Just after the festival, he led me to Krispy Kreme to eat my first American donut! A hot original glazed donut. This day will forever stay in my mind!"
"I went to see a movie just by Pier 61, it was such a beautiful night, wandering around seeing boats go past and the lights of Brooklyn shining across the bay, it was just gorgeous. I remember walking home feeling completely elated and blessed to be in such a beautiful, lively city."
You can read about more advice and memorable experiences from our 2012 program participants here.
InterExchange Career Training USA is a top J-1 Visa sponsor for university students and young professionals who have already secured internships or training programs with companies in the U.S. If you still need to find an internship or training program in the U.S., check out our resources and start the J-1 Visa sponsorship process early.
Signe Knutson
Signe Knutson worked as an InterExchange Career Training USA Participant Services Coordinator from 2013 until 2016, after spending a year teaching English in China's Hunan province. She has a BA in Asian Studies and Political Science form St. Olaf College in Minnesota.
Experience American culture and add international skills to your resume.
Sign Up
Learn More
Call Us