---
Important Americans: The Wright Brothers
---
3 minutes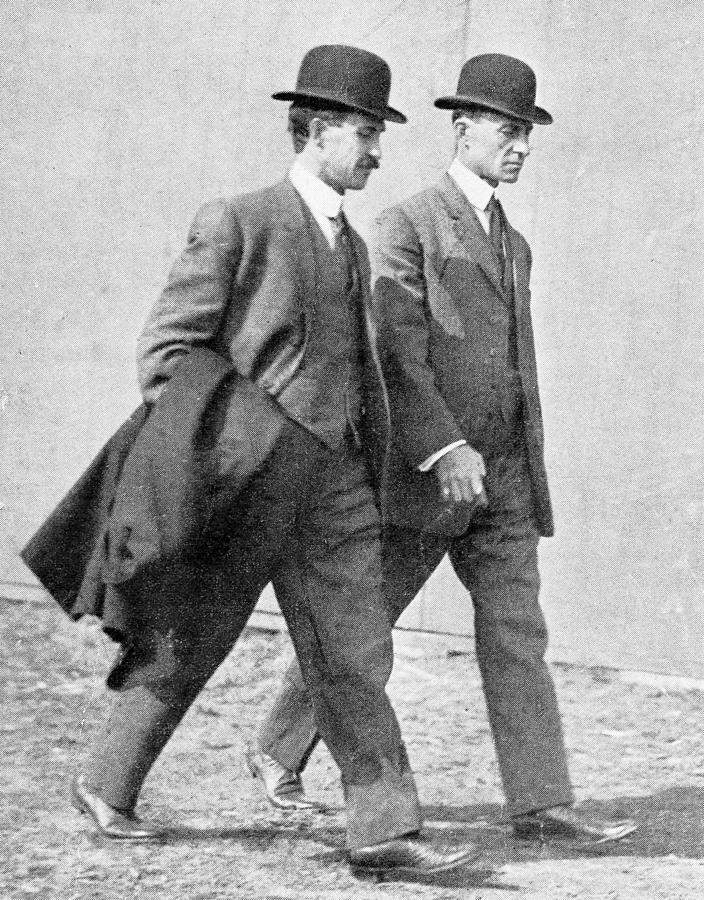 Who?
Wilbur and Orville Wright were brothers who became two of the most famous figures in the early days of aviation. The brothers were extremely close and published a newspaper and ran a bicycle shop for several years together until their passion for flight took over.
What?
Although there were several inventors working on flight by machines that were heavier than air, Wilbur and Orville were the only people who believed that control of the craft was the next great challenge. When the famous aviator Otto Lilienthal died in a crash, they felt compelled to join the race to develop the world's first airplane.
Most inventors of the time were working with craft similar to hang gliders, which were controlled by shifting their bodies. The Wright brothers saw that, like a bicycle, a plane should be able to turn and bank and set about designing controls that would allow a pilot to control it more effectively. They also experimented with over 200 different shapes of wings in a wind tunnel they created in their shop to find the best design to maximize both stability and maneuverability. After several years of tireless work, the brothers invented and began to sell the precursors to the planes we know today.
Where?
Wilbur, the older brother, was born in Indiana. Then the family moved to Ohio, where Orville was born. They had three other siblings, but the two were always particularly close to each other as they grew up. Wilbur, who did extremely well in school, was planning on going to Yale after high school, but a hockey injury caused him to retreat to their family home, and both brothers lived in Ohio for the remainder of their lives.
Some of their flight experiments and most of their development work was done in Ohio near their hometown. However, the majority of the flights, including the first controlled but free flight of a heavier-than-air and power-driven plane were carried out in Kitty Hawk, North Carolina, which was known for its strong winds.
To this day, the states have a rivalry about who can claim credit for the Wright Brothers and their extraordinary accomplishments. Ohio's license plates used to say "Birthplace of Aviation," but now say "Birthplace of Aviation Pioneers" in order to include astronauts John Glen and Neil Armstrong, who were also born in Ohio. North Carolina's license plates say "First in Flight." You can also visit the Wright Brothers National Memorial in North Carolina and the Dayton Aviation Heritage National Historical Park in Ohio.
People did not believe the brothers' claims at the time, though, so the flights that made them famous were actually performed in France where they had their first exhibitions in front of spectators. Many aviators who had previously been skeptical of their abilities quickly changed from scorn to praise as Wilbur amazed the crowds by flying their plane in a circle, something nobody else had been able to do.
When?
Wilbur and Orville were born in 1867 and 1871, respectively. In 1889 they published their first newspaper and in 1892, they opened their bicycle shop. Neither of these businesses made them famous, but they gave them the mechanical abilities to embark on their experiments in flight. Wilbur wrote to the Smithsonian in May of 1899 to ask for information on aeronautics, and after studying the publications they were sent, the brothers began to work on their ideas. They made their first powered flights in 1903, and after several years working in secret to perfect their craft, they made their first public flight in France in 1908.
Why?
When they were children, their father was a bishop for the Church of the United Brethren for Christ and traveled often as a part of his job. He brought the boys a toy "helicopter" made from paper, bamboo and cork with a rubber band to twirl the rotor on his return from one of his trips. They were fascinated by the toy and spent much of the next thirty years working on ways to make this flying machine a reality.
Did You Know?
The brothers tossed a coin to see who would be the first to fly. Orville won.
They remained unmarried.
Neither brother finished high school.
Neil Armstrong carried a piece of the Wright Flyer with him to the moon.
Elizabeth Cummings
Liz got the travel bug as a teenager when she volunteered in Mexico. After extensive travel, interning and studying abroad, she is excited to help others fulfill their dreams of experiencing another culture through InterExchange's Career Training USA program.
Experience American culture and add international skills to your resume.
Sign Up
Learn More
Call Us