---
Nashville City Guide
---
4 minutes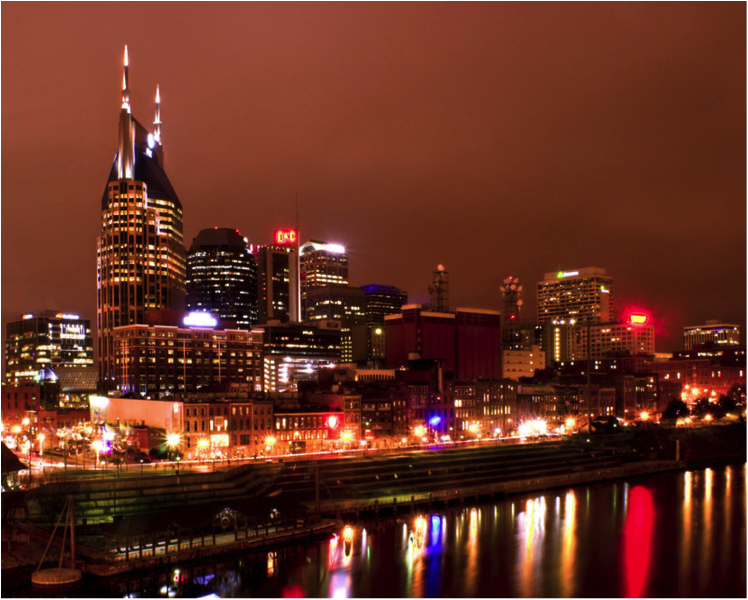 Nashville is the capital city of the American state of Tennessee. It is known as one of the main country music centers in the world, earning it the nickname of "Music City". Nashville is the second largest city in Tennessee after Memphis. In addition to being a musical center, it is also home to thriving healthcare, publishing, and banking industries.
Getting to the City
By Air: Nashville International Airport(BNA) isabout five miles from downtown Nashville. The cheapest way to travel between the airport and downtown Nashville is to take the Nashville MTA's Route 18 Airport/Elm Hill bus. Buses arrive on an hourly basis from 7am-10pm daily. Check the online schedule for any changes to service.
By Car: Nashville is connected by several interstate highways including I-65 (north-south), I-40 (east-west), and I-24 (northwest-southeast). The highways provide easy access to and from other cities such as Memphis, TN and Louisville, KY.
By Bus: Greyhound and Megabus provide service to/from Nashville.
Getting around the city
By Bus: Nashville is serviced by the Nashville MTA. Routes are operated throughout downtown and the surrounding areas. Schedules are often limited to a 9:00 a.m. - 5:00 p.m. schedule with limited late night service. Be sure to check their website for any schedule changes or service advisories.
By Train: Music City Star operates commuter trains Monday – Friday. Trains run from Lebanon to the Riverfront Station in Downtown Nashville. Complimentary shuttle buses are available connecting the Riverfront Station with nearby areas.
By Car: Driving around Nashville is the most reliable option. Car rental agencies are widely available in Nashville. I-40, I-65, and I-24 are the major interstate highways that run through Nashville. Taxis are also very common in Nashville, especially in the Downtown area.
Weather and Climate
Nashville is known for having very hot and humid summers with generally cool and moderately cold winters. Snowfall rarely occurs and is generally light. Spring and fall are generally warm but prone to severe thunderstorms.
The coldest temperature ever recorded in Nashville was −17 °F (−27 °C) on January 21, 1985, and the highest was 109 °F (43 °C) on June 29, 2012.
Things to See and Do
Adventure Science Center – The center features nearly 200 hands-on exhibits focused on biology, physics, visual perception, listening, mind, air and space, energy and earth science. It's a nice addition to all the history and music the city has to offer.
– A historic plantation mansion, the grounds now consist of 30 remaining acres featuring many historic buildings including a dairy, horse stable, carriage house, mausoleum, gardens, and a log cabin. Tours include a free wine tasting at the winery.
– 55 acres of beautiful botanical gardens, Cheekwood offers a good sanctuary from downtown Nashville's busy streets. The art museum also boasts an impressive collection of 19th and 20th century American art. For a schedule of the many festivals the museum holds check the Cheekwood website.
– The museum is dedicated to preserving the evolving history and traditions of country music. Visitors can peruse plaques dedicated to country music's finest musicians as well as learn the history and evolution of country music.
Grand Ole Opry – A weekly country-music stage concert and radio broadcast. The Opry is dedicated to honoring country music's rich history and dynamic present. Founded in 1925, the Opry has showcased many country music legends including Johnny Cash, Hank Williams, Patsy Cline, and Dolly Parton.
The Grand Ole Opry is located northeast of Downtown Nashville in the Opryland district and tours are offered seven days a week, although availability depends on concert schedules.
– The museum features the largest collection of Johnny Cash artifacts and memorabilia. Various exhibits highlight different periods of Cash's life including his time in the military and his famous prison concert tour.
Nashville Parks and Recreation – Nashville offers over 120 different park properties, 19 greenways, and over 13,000 acres of open space. These parks offer something for everyone including trails and nature programs. Some highlights of the Nashville Parks and Recreation are:
Centennial Park – Nashville's premier park. The park is located on West End and 25th Avenue North. The 132-acre park features Lake Watauga, the Centennial Art Center, historical monuments, and much more. Centennial Park also features:
- The centerpiece of Centennial Park, the re-creation of the 42-foot statue Athena is the focus of the Parthenon. The building and the Athena statue are both full-scale replicas of the Athenian originals.
-  Based in Nashville, The Titans are one of the teams in the National Football League. The Titans play their home games at LP Field, which is located across the river from Downtown.  If you're visiting Nashville during (American) football season, you may want to attend a game!
Things to Eat
Nashville has a reputation for having excellent southern food. Here is some of the top-rated restaurants in Nashville. Don't forget to try some biscuits and gravy!
Cheap
Not So Cheap
Etch – New American cuisine
Rolf and Daughters – Mediterranean cuisine
The Southern Steak & Oyster – Oyster bar and southern steakhouse
Have some room for dessert? Don't forget to check out Jeni's Splendid Ice Creams! Their unique and mind-blowing flavors will definitely satisfy your sweet (or savory) tooth.
Other Helpful Resources:
Nabil Yafai
A Brooklyn native, Nabil loves traveling, cooking, and riding his bike to the beach. He joined InterExchange in 2014 and currently assists international participants with obtaining J-1 Visa sponsorship as the Admissions Coordinator for Career Training USA.
Experience American culture and add international skills to your resume.
Sign Up
Learn More
Call Us