---
Participants Tell Us: The Best Things to Do in NYC!
---
2 minutes
Many of our participants are engaged in internships and training programs based in New York City and many more of will visit NYC during their stays in the U.S. We have compiled some advice from former participants about what to do in New York City. We've also added some resources that can help you plan activities and find out what's happening in the city during your time here.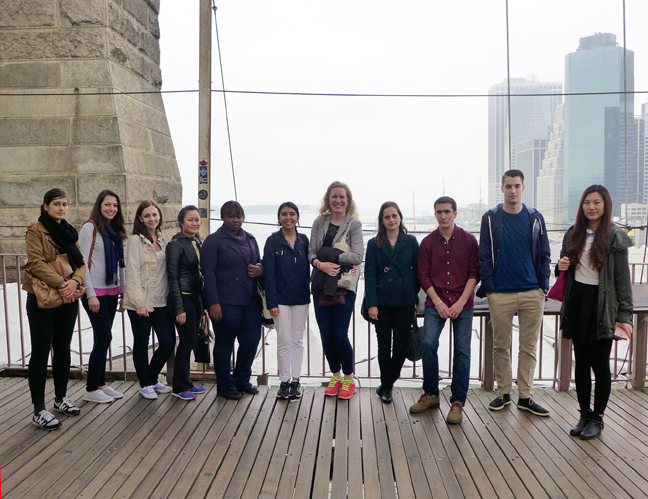 InterExchange Career Training USA participants and staff on a walk across the Brooklyn Bridge.
NYC Participants Share Their Favorite Activities
When asked what new arrivals should do in New York City, our participants said:
"I enjoyed exploring the city, visiting the tourist hotspots as well as going off the beaten track. I enjoyed trying the different cuisines available and frequenting the numerous restaurants and bar. There's so many options available you'll never be bored. I'd recommend anyone going out there to get involved in as much as possible, enjoy it! Try things you wouldn't normally do, embrace the city and the different cultures."
—Michael C., participant from the U.K., 2015
"Eat Brunch in Harlem, during a football game that is a very good cultural experience. Also doing shopping in Soho, beautiful part of New York."
—Julie L., participant from Belgium, 2015
"I loved to walk through the differents neighborhoods, try out different typical bars and restaurants. I really liked to do "escape the room" which is a game that enable to meet a lot of people and that I would recommend."
—Alice D., participant from France, 2015
"Walk in soho, see the statue of liberty, have brunch in meatpacking and lunch in chelsea market, visit the MOMA, Guggenheim museum. Visit the Brooklyn art galleries, go watch a broadway show, attend a gospel on a sunday morning."
—Margaux P., participant from France, 2015
Many more mentioned just walking around different neighborhoods, trying the different types of food, enjoying the great New York brunches and much more. Here are some resources to get you started in exploring New York City.
Learning About NYC Neighborhoods
What's Happening: Theater, music, museums, festivals, etc.
Where to Eat in NYC
Brunch: What, Where & How
Other Activities
InterExchange Blog Posts on NYC
Elizabeth Cummings
Liz got the travel bug as a teenager when she volunteered in Mexico. After extensive travel, interning and studying abroad, she is excited to help others fulfill their dreams of experiencing another culture through InterExchange's Career Training USA program.
Experience American culture and add international skills to your resume.
Sign Up
Learn More
Call Us