---
Participants Tell Us: The Best Things to Do in and Around San Francisco!
---
3 minutes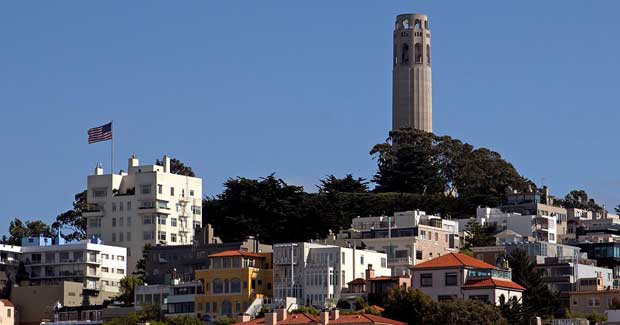 Photo courtesy of Public Domain Images
The San Francisco Bay Area is one of the most popular areas for our participants to live in and travel around. It's a great region, and we want you to make the most out of your time there. We've asked some of our participants to tell us their favorite things to do, and we've also added some online resources to help you take advantage of these opportunities.
What Do Our Participants Recommend?
You may want to consider taking advice from these local experts! Our participants who have lived in the Bay Area give their advice:
[I would recommend] going surfing, hanging out at the beach, going rock climbing, going hiking, hanging out in nice coffee shops with friends, and going to live concerts. Arne C. (From Germany, lived in Santa Cruz)
Go to the most popular tourist destinations in the city first. It might not be appealing, but these places are popular because they are good. Go to events in the city, or around your home if you live far. I went to the SF carnival and the SF centennial music celebrations, which were fun. Once you're all settled, you might want to go to Napa Valley (wine tasting, hot air balloon), Monterey Bay (they have scuba diving and skydiving there), Santa Cruz beach. Also, the valley has a lot of cool treks and bike trails you can explore. If you're driving down south, do consider taking CA State Route 1, the view is awesome. Abhay M. (From India, lived in San Francisco)
Travel to the various sights around the city – Big Sur, Mount Tam, Muir Woods, Sausalito and Tiburon, Lake Tahoe. Also you need to experience the nightlife in the city – restaurants and bars, music events, and generally explore the neighborhoods of San Francisco. Joseph C. (From the U.K., lived in San Francisco)
Relax by the sea, visit the [Berkeley] campus, eat at good restaurants, play field hockey, and take road trip all throughout California. Thibaut V. (From Belgium, lived in Berkeley)
If you live in California and don't have a tan, you're doing something wrong. Other things not to miss include:

Go on hikes/bike rides
Go swimming on the weekends
Go to concerts in the city
Food festivals/restaurants
Bars/clubs are great I would recommend for everyone to use meetup.com and similar websites to meet others. Go meet as many new people as possible. It was one of my favorite things to do. Tanuj B. (From India, lived in Palo Alto)
[I would recommend] hiking in National Parks, wine tasting, camping, going to the coast, drinking beer, going to the movies, etc." Amaury B. (From France, lived in Santa Rosa)
Photo courtesy of Wikimedia Commons
As you can see, there is no shortage of opportunities for enjoying yourself in the Bay Area. Here are some resources to help you get started on your own adventure!
Neighborhoods to Explore
Curbed San Francisco Not For Tourists The Bold Italic Visit California Lonely Planet
Local Events
Fun Cheap SF SF Station Eventbrite TimeOut San Francisco Bay City Guide Inside Bay Area Live SV
Delicious Food
Bay Area Foodie SF Eater Zomato Cheap Bastard SF SF Chronicle Chowhound
The Great Outdoors
Outdoor Adventure Club SF Recreation and Parks Every Trail Bay Area Sea Kayakers Bay Area Bike Share
More Opportunities
Atlas Obscura Meetup SF Arts Network After Work Hidden SF
InterExchange Articles
The California Redwoods Silicon Valley 10 Things to do Under $10 in San Francisco Bay Area Travel Guide San Francisco Travel Ideas The Pacific Coast Highway Napa and Sonoma 10 Things to do for Under $10 in Berkeley, California
Elizabeth Cummings
Liz got the travel bug as a teenager when she volunteered in Mexico. After extensive travel, interning and studying abroad, she is excited to help others fulfill their dreams of experiencing another culture through InterExchange's Career Training USA program.
Experience American culture and add international skills to your resume.
Sign Up
Learn More
Call Us