---
23 Ways to Get the Most Out of Your Exchange Program in the U.S.
---
4 minutes
InterExchange specializes in cultural exchange programs, and we're always looking for ways to help participants deepen their experience. Events are usually fun, but the most memorable exchange experiences you'll have will be the time you share with host families, coworkers, and friends that you meet during your program. Here are some ideas to get the most out of your cultural exchange program!
Food
![food](https://iex-website.s3.amazonaws.com/images/github/d8ba60b8-0e26-11e6-9279-3d66e0c13d60.jpg "Image courtesy of Satya Murthy")
Food is one of the most enjoyable ways to learn about new cultures, as well as to share your own. Cooking and eating are fundamental to the human experience, so this is a great place to start when you're thinking about how to enable cultural exchange.
There are several websites that are using this idea to connect people in different ways. Have a meal in a local home through Meal Sharing, EatWith and other local home cooked eating sites.
Cook a traditional dish from your country and bring it into work or share it with roommates.
A potluck is a great American tradition in which everybody brings a dish to contribute to a party. Have everyone bring one from their home country or region of the U.S., and you'll be surprised by the array of delicious foods you'll taste.
Before you leave the U.S., have a friend teach you how to make your favorite American food so you can make it for your friends and family when you go back home.
The Arts
![getty](https://iex-website.s3.amazonaws.com/images/github/8498d86a-0e27-11e6-8ed1-9028c746f9f6.jpg "Image courtesy of Prayitno")
Sharing arts and music is a great way to have fun and share culture at the same time. Most of your American friends will enjoy participating in these too.
Make a playlist of your favorite music from home to play for your friends and coworkers.
Attend a music festival with friends.
Invite American friends to an art exhibit/concert by artists from your home country or an event at a cultural center.
Find the cultural events in your host city and try to attend as many as possible (google: free events [your host city] for great cheap and free options).
Many museums have a free day or a few free hours each week. Take advantage of these! Some museums are free every day.
Holidays
Holiday traditions are different in every country and give you an opportunity to really get to know your new friends. Holidays are a time when people go back to their roots, so you'll probably learn more about family life as well.
If you are in the U.S. during a holiday, try to spend it with an American friend or family.
On your country's national holiday, tell your friends and coworkers about it and do something special. (A French friend of mine brought in her favorite French pastries on Bastille Day and taught her coworkers to sing the Marseillaise.)
Find one great holiday tradition to bring back to your home country and make it a part of your family's traditions in the future.
Language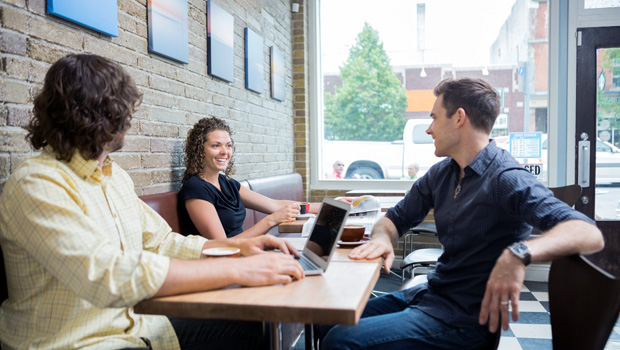 Since you'll be living in the U.S., you'll be using and improving your English every day. However, if you want to get the most out of your time here, you can use these ideas to go the extra mile.
Language exchanges are a great way to make friends and brush up on your language skills. You can share your language and culture with an American and vice versa.
Check out the American English at State Facebook page for fun posts about American slang and idioms that will make you sound like a native.
Read classic books in English to help you with your language skills and cultural references.
Sports
Every country has their own sports culture and this is a really popular way to learn about your host country. Find out what teams your host city supports and have an American friend explain the rules of the games.
Going to see games is a fun way to experience U.S. culture. Here is a list of major sporting events across the country.
Get together with some friends for that American classic - the Superbowl Party.
When you're going to a game, get there early for some tailgating, a great tradition of grilling and hanging out in the parking lot before a game.
Participate in pick-up games at the park or a local sports league to get some exercise and meet other people who have similar interests.
Other Great Ideas
How many of these experiences have you had? Tell us your ideas for great cultural exchange moments!
Elizabeth Cummings
Liz got the travel bug as a teenager when she volunteered in Mexico. After extensive travel, interning and studying abroad, she is excited to help others fulfill their dreams of experiencing another culture through InterExchange's Career Training USA program.
Experience American culture and add international skills to your resume.
Sign Up
Learn More
Call Us