---
Study says overt cultural differences foster workplace cooperation
---
2 minutes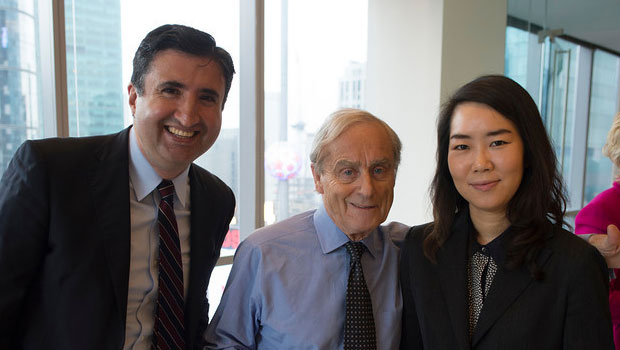 Workplace diversity is often looked at as a force that breeds productive disagreement by its proponents or counterproductive distrust by its detractors, but a recent study indicates that its main effect may be to increase cooperation among workers.
The study, authored by management professors at the University of Toronto and published in the journal "Psychological Science," studied international trainees and local workers in a common employment setting. When the local workers felt treated fairly by their employers, they were likely to be highly cooperative with their international counterparts, the study found.
"We find that group-based differences can actually encourage cooperation across these group lines because they help to identify groups in need from groups that can give aid," said Dr. Geoffrey Leonardelli, one of the authors of the study.
In fact, this cooperation was stronger when the international trainees were easily identified as such, contradicting the common notion that those who are different will fare better if they try to "blend in." The researchers theorize that this is because workers who are overtly different from the rest of the workforce are easier to identify and therefore easier to target for help acclimatizing to the new environment. When they perceived the trainees as being international, the domestic workers were more likely to openly and freely discuss work and cultural matters with them than when the workplace diversity was more subtle, the study found.
The researchers suggest that international trainees who come to the U.S. may enjoy more success if they openly display their heritage rather than trying to assimilate as quickly and completely as possible. Not only will this increase their chances of getting support and cultivating friendly relationships with permanent staff, but it will create a more cooperative workplace overall, thereby benefiting both themselves, their American colleagues and the temporary employers that host them.
The study may also have implications for companies that are trying to boost diversity in their workforce. By working with a cultural exchange program, they can host international trainees from a variety of countries for periods of up to 18 months. The findings of the study suggest that taking on international trainees may be helpful for workers, trainees and the company alike by creating a more cooperative, friendly, and therefore productive workforce.
InterExchange Staff
InterExchange is proud to have an experienced team that is dedicated to international cultural exchange. We come from a variety of backgrounds, but nearly every member of our New York City-based staff has extensive experience traveling, working, or living abroad.
Experience American culture and add international skills to your resume.
Sign Up
Learn More
Call Us