Glass Ceilings to Open Windows: The Importance of Women in Leadership
4 minute read
---
It's Women's History Month, and we're reflecting on female leadership and challenges faced by women in the professional world.
What is Women's History Month?
"Glass Ceiling" is a term used to describe barriers faced by women in the professional world. Women often struggle to be promoted to senior positions - an invisible, or "glass," ceiling limits their rise. This is an important concept to note as we begin Women's History Month. This month is an occasion to celebrate contributions made by women to our society, but also reflect on their professional struggles and look for solutions.
As noted by the National Women's History Alliance,
In 1987, Congress declared March as National Women's History Month in perpetuity. A special Presidential Proclamation is issued every year which honors the extraordinary achievements of American women.
The Importance of empowering women
Empowering women significantly benefits a society. The United Nations Entity for Gender Equality and the Empowerment of Women notes that
Women's economic empowerment is central to realizing women's rights and gender equality. Women's economic empowerment includes women's ability to participate equally in existing markets; their access to and control over productive resources, access to decent work, control over their own time, lives and bodies; and increased voice, agency and meaningful participation in economic decision-making at all levels from the household to international institutions.
Women in charge
Additionally, women in leadership positions demonstrate to girls that gender is no obstacle to success. This is important, as women are still underrepresented in senior professional positions. In North America, for example, women make up only 29% of senior management.
At InterExchange, we're happy to be a part of a professional field that defies these statistics. A 2020 Diversity Abroad survey noted that women make up the majority in most international education organizations, in which 77% of staff and management are female. As of February 2021, InterExchange is 77.4% female, with 6 female Leadership Team members, including our CEO.
Meet the women who lead InterExchange!
Here's a little bit about them:
Christine
Christine has played a leadership role at InterExchange—and within the international cultural exchange community—for more than 25 years. She started her InterExchange career with the Au Pair USA program, from 1992 to 1997, and since 2000 has held management and executive roles in the organization, as well as board positions in related community associations.
Christine is a supporter of many international and domestic causes ranging from women's rights, ending animal cruelty, and providing opportunities for disadvantaged teens. After growing up in a small town, she appreciates the diversity of New York City and proximity to JFK's international departure terminals. She enjoys kayaking and photography in her free time.
Rachel
Rachel has worked in Human Resources for more than eight years. She strives to bring a holistic, employee-centric approach to her work. She is active in several volunteer activities in her local community.
Lynne
Lynne has been working in international education and cultural exchange since 2003. In her free time, Lynne can be found perfecting her sailing skills as a crewmember on the South Street Seaport Museum's historic schooner, Pioneer.
Tanya
Originally from Ukraine, Tanya first experienced the field of international exchange as a program participant and is a proud alumna of two Exchange Visitor Programs: Summer Work Travel and Trainee. Tanya's mission is to empower young people around the world to experience the transformational power of international travel, study, and people-to-people exchanges.
In her current role as External Engagement Associate Director, Tanya is leading InterExchange's advocacy activities by collaborating with the Leadership Team, fellow sponsor organizations, and representing InterExchange in advocacy projects on local and national levels. One of Tanya's favorite parts of her work is creating an online series of cultural advice for InterExchange participants called Tanya's Tips, where she uses her own exchange program experience to help incoming students navigate American culture and have fun doing it.
Nicole
Nicole has worked in the international exchange field since 1997. Nicole loves travel, and is an avid reader and public radio supporter. When not facilitating life-changing cultural exchange opportunities, you can find her seeking out the latest international food New York City has to offer.
Heidi
Heidi is passionate about international travel and cultural exchange and has dedicated her career to helping young people travel and experience America. Her family has hosted au pairs from Türkiye and Germany and exchange students from Japan. Heidi enjoys cooking, current events, volunteering, and spending time with good friends.
We hope you have a wonderful Women's History Month!
Women's History Month is not just a celebration of women's accomplishments, but a call for reflection and growth. No matter how well any one woman does, all women deserve success. Please join us in celebrating the women in your community and around the world. Not just this month, but every month.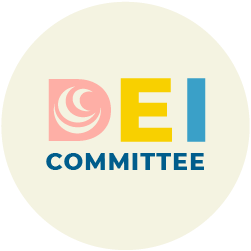 By DEI Committee
The Diversity, Equity, and Inclusion (DEI) Committee at InterExchange designs and implements programs, training, and education for our staff, participants, and hosts to foster inclusivity in the field of cultural exchange. We work to amplify the voices of staff from marginalized groups on topics related to our work and to guide our staff and Leadership in our overall commitment to diversity, equity, and inclusion within our organization.

Committee Chair: Machada Smith-McGovern