---
J1 Breakfast with Mayor of Lake George, NY!
---
1 minute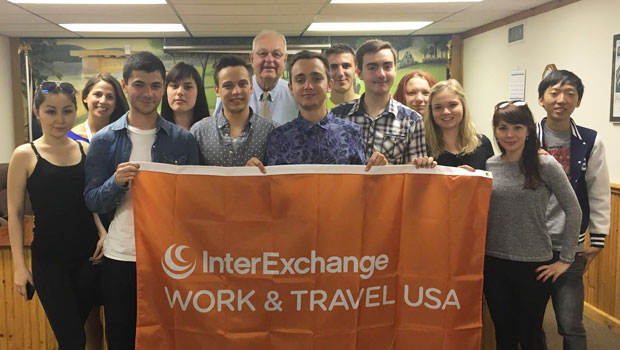 InterExchange returned to Lake George this summer for our second annual Meet the Mayor breakfast and Q&A session with Mayor Robert Blais. Participants from across all Summer Work Travel programs were invited to attend and speak with the longest standing mayor in U.S. history! Mayor Blais spoke about his personal experience with the Summer Work Travel program, as well as the town's long-standing history utilizing exchange visitor programs to keep their summer season afloat. Students had the opportunity to discuss their experiences in Lake George and some of their favorite aspects of American culture. The resounding winners were food and shopping!
InterExchange staff spent the week in Lake George to visit with local businesses, greet students at work and attend the Lake George Chamber of Commerce Mixer at The Sagamore Hotel. Hundreds of members from both the Lake George Chamber and the Adirondack Regional Chamber gathered for the chance to meet new faces and enjoy speeches from local business owners and active Chamber members.
We look forward to returning again in 2017!