---
Meeting the Mayor in Lake George
---
1 minute
This summer, InterExchange traveled to Lake George, New York to give program participants the opportunity to have breakfast with long time Mayor of Lake George, Robert Blais. Students gathered in the mayoral conference room and were surrounded by a mural and framed photographs depicting the town's rich history in politics and tourism. After mingling over breakfast, Mayor Blais sat with our students to discuss the town's long history with the Summer Work Travel program, ask questions about students' jobs, and share their favorite Lake George pastimes.
Mayor Blais, who with his 45 years experience is now the longest sitting U.S. Mayor, has seen the success of the Summer Work Travel program firsthand. The town employs participants each summer for lifeguarding and park maintenance positions, and other local businesses hire over 150 students to help get them through the peak season on the lake. Before leaving, the Mayor posed for pictures with all students and expressed his gratitude and appreciation for their contribution to Lake George.
Afterwards, InterExchange participants were taken on a local paddlewheel cruise with the Lake George Steamboat Company, where staff and students enjoyed an hour-long tour of the lake's southern basin on the well-known steamboat, the Minnie-Ha-Ha. Along the tour, students learned some unique lake facts and admired summer homes along the famous "millionaire's mile". InterExchange wrapped up the day with a group photo in front of the Minnie-Ha-Ha and a big thank you to all participants.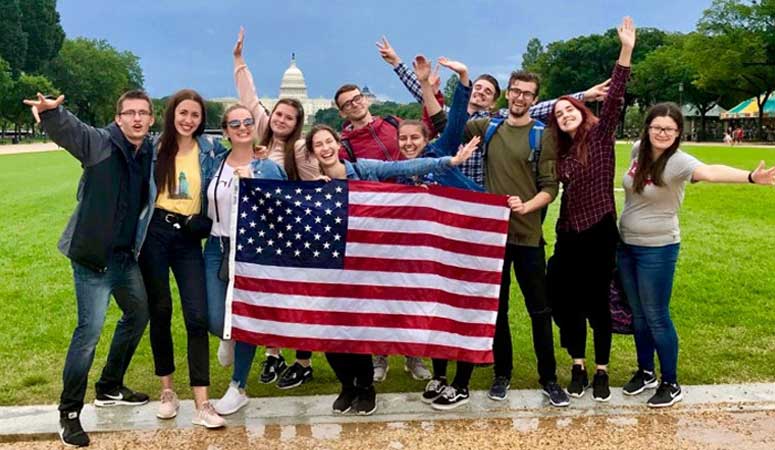 Experience American culture while working and exploring the USA
Sign Up
Learn More
Call Us