---
A Visit to the U.S. Capitol and National Night Out
---
1 minute
InterExchange recently hosted a cultural event for our J-1 participants in Washington, D.C., and joined a community "National Night Out" event in Wildwood, New Jersey.
Tour of the U.S. Capitol
On July 13th in Washington, D.C., InterExchange participants from Russia, Turkey and Kazahkstan attended a tour of the U.S. Capitol, followed by self-guided walking tours and visits to nearby museums. The tour of the Capitol started with a short movie describing the history of Congress and other branches of the U.S. government. Participants were then led into National Statuary Hall, where U.S. states are represented by statues of local historical figures.
The highlight of the tour was visiting the rotunda, the cavernous hall beneath the famous Capitol dome. Surrounded by a painting of George Washington on the ceiling and depictions of historical events on the walls, the tour guide shared stories of American government and architecture.
National Night Out
National Night Out in Wildwood, New Jersey, is an annual event that offers an "opportunity to build neighborhood unity and strengthen police-community partnerships in a continuing effort to build a better City and safer America," and was held on August 4th. Participants enjoyed the opportunity to meet and interact with members of the community as well as fellow J-1 exchange visitors. 13 InterExchange participants were in attendance, along with around 10 students from other sponsors.
Students learned about Vietnam War veterans in the community, police roles, and beach safety tips provided by the Wildwood Beach Patrol. There were lots of fun games and activities, including a dunk tank, and free drinks and snacks. A helicopter landing on a lawn near the event provided a fascinating (and loud) moment. Attendees had a great night meeting new people and learning about their host community, and left the event with some InterExchange swag.
Ani Kington
Originally from Columbus, Ohio, Ani is a fan of exploring new places through photography and the local cuisine. After earning her BFA in photography from NYU and gaining communications experience at International Planned Parenthood Federation, she joined InterExchange in 2012, and worked as the Marketing Producer until 2016.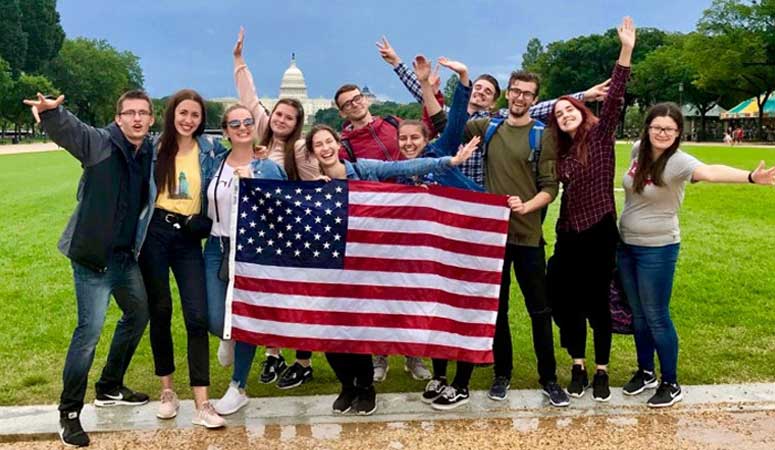 Experience American culture while working and exploring the USA
Sign Up
Learn More
Call Us